Exclusive

The Mercedes-AMG A 35 is Confirmed for Canada!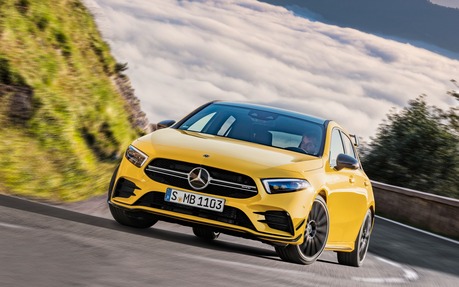 Last week, we showed you a potential AMG version of the all-new Mercedes-Benz A-Class, a super-powerful and very yellow German hot hatchback, just the way we like them. Sadly, Mercedes-Benz also told us that the car wouldn't be sold in Canada.
Turns out it will. According to one of our journalists who is currently at the 2019 Mercedes-Benz A Class North-American launch, the AMG A 35 will be sold here in Canada after all!
Extremely Hot
Recently, we pitted the Mercedes-AMG CLA 45 against a Kia Stinger GT, a Genesis G70 and an Audi S5 Sportback. It's a sport compact car that seduced our journalists thanks to its rebellious character, undeniable driving dynamics, and impressive acceleration. But we all lamented over the fact that the car lacked refinement and finesse, that its cabin materials were of sub-par quality, and that its rear seat was too tight considering its high price tag.
With the A 35, we expect most of these flaws to be quelled thanks to the A-Class' all-new architecture, which should, or at least we hope, allow the AMG version to be stiffer and more sophisticated in every way.
Expect the new car to be powered by the same 2.0-litre, turbocharged four cylinder as the CLA 45, pumping out 306 horsepower and 295 lb.-ft. of torque. Mercedes-Benz promises a 0-100 km/h time of less than five seconds. Also, an even more powerful A 45 version, with a promised 400 horsepower, is expected down the line.
Like the CLA 45, the A 35 will come standard with 4MATIC all-wheel drive, but it'll put the power to the ground via an all-new, seven-speed dual-clutch automatic gearbox. An adjustable suspension and exhaust system will also be available, and Mercedes claims an all-new driving mode management system called AMG DYNAMICS should help adjust the car's character to the driver's desires.
Scheduled for the 2018 Paris Auto Show, we still don't know if the AMG A 35/45 will be sold as a 2019 or 2020 model, and no pricing has yet been unveiled. However, the simple fact that the car will be sold on our market is great news, and should add a breath of fresh air to an already vibrant segment comprised of stellar machines such as the Honda Civic Type R, Hyundai Veloster N, Volkswagen Golf R, Subaru WRX STI, BMW M240i, and Audi RS 3.