2020 Mercedes-AMG A 35 4MATIC to Land in Canada Early Next Year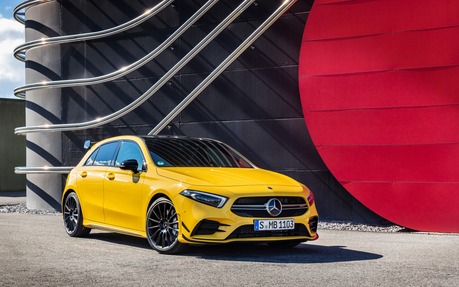 During the media preview of the 2019 Mercedes-Benz A-Class Sedan, we received a verbal confirmation that the Mercedes-AMG A 35 4MATIC would be offered in Canada. However, the automaker has just officially confirmed its arrival, and it will be offered in hatchback and sedan body styles, ready to confront the Volkswagen Golf R, the Audi S3 and the BMW M240i xDrive.
This little force-fed and all-wheel-drive beast will be added to the A-Class range that already includes the A 220 sedan and the A 250 hatchback, both available with front-wheel and all-wheel drivetrains.
The AMG A 35 receives a turbocharged 2.0-litre four-cylinder engine that develops 302 horsepower as well as 295 pound-feet of torque from 3,000 rpm, mated to a dual-clutch, seven-speed automatic transmission. We're far from the 375 horses spitted out by the AMG CLA 45 and AMG GLA 45, but model hierarchy must be respected.
Nevertheless, the A 35 hatchback can blast from 0 to 100 km/h in 4.7 seconds, while the A 35 sedan needs another tenth of a second. Top speed is electronically limited to 210 km/h. Its 4MATIC all-wheel drivetrain obviously favours the front wheels, but can send up to 50% of engine torque to the rear wheels.
"Ever since we announced the introduction of the A-Class to the Canadian product portfolio, many have been anxiously awaiting news of an AMG variant," stated Brian D. Fulton, President and CEO of Mercedes-Benz Canada. "Canadians love performance vehicles. In fact, one out of every four vehicles we sell is an AMG. With the A 35 hatch and sedan, which will arrive in early 2020, we will expand our AMG line-up even further and offer exciting performance driving in the compact class."
During the creation of the AMG A 35, company engineers reinforced the car's front end in order to increase turn-in and stability. An aluminum plate was bolted under the engine and diagonal braces were used to enhance stiffness and reduce torsion. The car's suspension also boasts variable dampers to provide ride comfort under relaxed driving and more agility under sporty driving. Bringing the A 35 to a halt are 350-millimetre discs up front and 330-mm rotors at the rear.
Like the other A-Class variants, the AMGs will be equipped with the brand's new MBUX infotainment system, but with additional functionalities for closed-course driving, including a chronometer for calculating acceleration and braking. Lastly, in the A 35 we'll find ARTICO simulated leather upholstery with DINAMICA faux-suede accenting as well as red or gray contrast stitching.
In a nutshell, the 2020 Mercedes-AMG A 35 will be all about power, handling and invigorating engine sounds. These sportsters will land in Canadian dealerships early next year. Pricing hasn't yet been announced, but we're expecting them to tickle the $50,000 mark.