2019 Ford Edge: Focusing on What Pays Well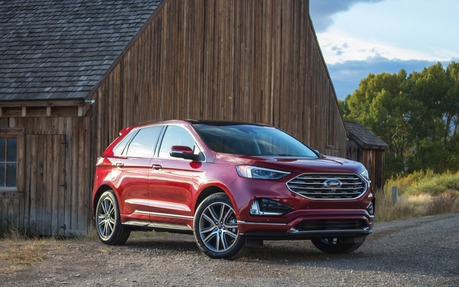 SALT LAKE CITY, Utah – Let's say you're the owner of a muffin company and you notice your raspberry and blueberry muffins aren't selling all too well. What do you do? You make bigger muffins and sell them at a lower price? And what if that doesn't work? You remove them from your inventory!
That's precisely what Ford did when it announced, earlier this year, that it would cease the production of its cars, with the exception of the Mustang. It isn't all that hard to understand why, as North-American consumers buy SUVs now, not cars. Ford did like the coffee shop at the corner of your street that only manages to sell chocolate chip muffins, even though it offers some filled with fruit.
Hence, by removing its sedans and subcompacts from its lineup, Ford did what any good muffin business would do. It increased its stocks of popular models, stuffed them with more chocolate chips, and bumped up their price. The Edge is Ford's chocolate chip muffin, and for 2019, it's never been so tasty.
Almost Alone on its Star
But then, it's not like the Edge has that many rivals. Its only real competitors are the Nissan Murano and the upcoming Chevrolet Blazer. It sits in the oddball segment of midsize, five-passenger crossovers. Squeezed between the Escape and the Explorer, the Edge promises to blend the driving dynamics and performance of a car with the versatility of an SUV. And the formula seems to be working for Ford, because in 2017, more than 180,000 people bought one in North America.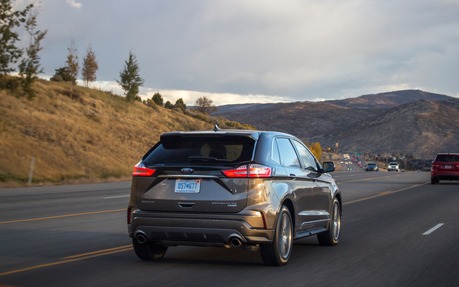 Now that the Edge has become an important battle horse for Dearborn's finest, it gets a thorough refresh for 2019 so it can soldier on. After all, without the sales of SUVs, Ford wouldn't be going very far.
The changes are substantial. There's an entirely facelifted design through a different fascia, updated LED headlights and restyled bumpers. The entire rear end was also uplifted, and there are now new wheel packages and sportier-looking side skirts.
Inside, material quality has been improved, notably in the door inserts, dashboard and centre console where you now find a knob dial to manipulate the all-new eight-speed automatic gearbox. Ford claims such a configuration frees up the console in order to maximize storage space. Personally, it didn't take me long to miss the good old gear lever. That knob dial is slow to react and not all that intuitive.
The sole engine for all 2019 Edges is the 2.0-litre turbocharged four, which gets a slight horsepower bump for a total of 250. Torque remains unchanged at 275 lb.-ft. The Edge Sport is discontinued, and replaced by the all-new 2019 Ford Edge ST.
For 2019, all trim levels come standard with Ford's semi-autonomous suite of safety features called Co-Pilot360. Some models can even sync with Amazon Alexa, allowing you to voice-command your Edge to execute various actions, such as open and closing a garage door, or remotely start the engine and pre-heat the cabin.
The Four Cylinder That Could
Our tester was a Titanium with all-wheel drive. With a sales price of $43,399 (before freight and destination), it's the one that tops the lineup before heading over to an Edge ST. Three other trim levels are offered, SE with all-wheel drive and SEL with either front or all-wheel drive.
A base Edge, the SE, isn't what many would qualify as an affordable vehicle. It kicks off at $35,999. Ouch! At least, it comes standard with all-wheel drive in Canada, which should be a hit for our winters.
On the road, I was quite pleased with the four-cylinder's eagerness, especially considering I had just came out of the ST. But the back-to-back comparison did allow the 2.0-litre to shine. It's got great low-end torque, and spirited acceleration! I'll even go as far as saying its performance is more compelling than the V6-powered Murano's.
The same can be said about the eight-speed automatic. It's quick to react for downshifting, and doesn't attract too much attention to itself during upshifts. Generally speaking, the Edge offers acceptable road manners, with very little body roll, or unwanted wobbles when driven over road imperfections. Its driving dynamics are almost "sporty," and since the four-pot is significantly lighter than the V6, it allows the front of the vehicle to be lighter, hence more playful than its V6 counterpart.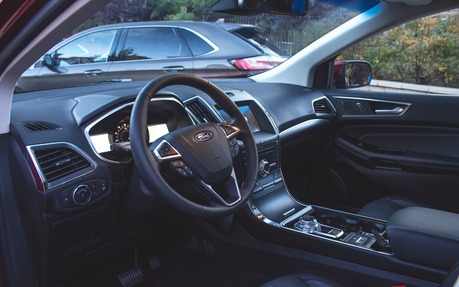 Inside, the Edge is roomy, its rear seat is comfortable, and cargo space is high for the segment at 2078 litres. That's more than in the Murano (1897 litres). Towing capacity is however the same as its main rival at 1500 lbs. (680 kg).
As a midsize crossover, the 2019 Ford Edge does its job rather well. Then again, with so little competition, it isn't all that difficult to perform. And we understand Ford to give it a facelift, the Edge is a sales hit.
But we still question the awkward driving position which makes you feel like you're sitting on top of the vehicle instead of inside it. And while semi-autonomous driving aids are the big thing these days, they'd be a little more compelling here if they actually worked well. During Ford's demonstration, two of the various features refused to operate as advertised. "We're witnessing technical issues," they said. We were not impressed. To Ford's defense, the cars we tested were pre-production vehicles. Ford promises its systems will operate more consistently once they go on sale.
The 2019 Ford Edge should hit Canadian showrooms next month, ready to eat up yet more midsize sedan sales.
Test drive report
Test model

2019 Ford Edge

Trim level
N/A
Price range
$35,999 – $49,099
Price as tested
CA$49,099
Warranty (basic)
N/A
Warranty (powertrain)
N/A
Fuel economy (city/highway/observed)
11.4 / 8.3 / 10.1 L/100km
Options
N/A
Competitive models
Chevrolet Blazer, Nissan Murano
Strong points

Spacious cockpit
Gutsy four-cylinder engine
Generous cargo space

Weak points

High base price
Awkward driving position
Ok fuel economy

Editor's rating
Fuel economy
We recorded an average of 10.1 L/100 km. For an all-wheel-drive SUV of this size, it's competitive, but not great.
Comfort
Generally speaking, the Edge is a roomy and comfortable vehicle, but the driving position is counter-ergonomic.
Performance
The four-cylinder turbo's low-end torque makes the Edge a punchy SUV with more than decent acceleration.
Infotainment
Ford SYNC 3 is an intuitive system filled with the latest tech, but it can prove complicated for beginners.
Driving
We're far from a sports car, but the Edge is capable enough to enter a corner quickly without screeching its tires.
Overall
Almost alone in its segment, the 2019 Ford Edge may be expensive, but it accomplishes its mission as a midsize crossover impeccably well.