2019 Ford Edge ST: Yes, it's a Thing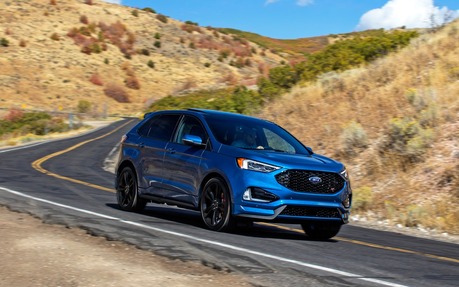 SALT LAKE CITY, Utah – as journalists, it's our duty to put aside any subjective opinions we may have and remain as objective as possible. But sometimes, the subject matter is so outrageous that's it's difficult to keep your head cool.
Take the vehicle you see here, the 2019 Ford Edge ST. Spotting such letters, which have long represented lightness and manoeuvrability, on a near 4000-lb (1,800-kg) SUV could be sacrilegious for many automotive enthusiasts. What's even more frustrating is the fact that the Fiesta and Focus ST will soldier on in other markets, but in Canada and the U.S. But let's remain calm; after all, our job as good journalists is to inform consumers.
So, let's inform: ladies and gentlemen, welcome to SUV kingdom! You asked for this, folks. The 2019 Edge ST is nothing more than an inevitable market evolution.
Let's Talk Performance
At Ford, ST stands for Sport Technologies. It's a division that traces its racing heritage back to the late 1970s in Europe with the Ford Escort RS1800. That car was a tiny little rally car that won a few championships on its own. And Ford kept at it. We then saw even more extreme machines from the blue oval, such as the Ford RS200, followed by racing homologation specials for the road, such as the Sierra and Escort Cosworth, followed by the Focus RS.
It was in 2013, with the Focus ST, that we got Ford's first European-derived high-performance vehicle, followed by the Fiesta ST in 2014, and the Focus RS in 2016.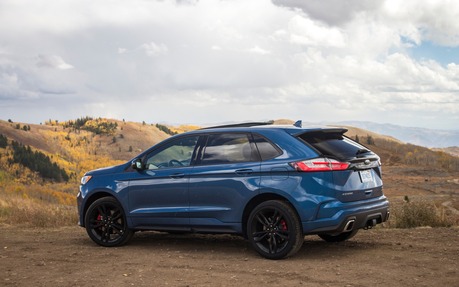 While these cars were much appreciated among enthusiasts, they haven't been selling too well, even in non-ST form. The Focus will sadly leave us at the end of 2018, and if you're still interested in a Fiesta ST, you'd better hurry, because after next year, it's heading back to Europe.
Now aimed at only selling SUVs, Ford focuses on the vehicles that are selling well, and the Edge is one of them. With the ST, the carmaker hopes to maintain the performance flame alive for the North-American market.
And yes, we are talking about a totally different vehicle. The ST replaces the Edge Sport, but is still powered by the same 2.7-litre, twin-turbo EcoBoost V6 which now pumps out 335 horsepower, 20 more than the Sport. Torque was also bumped to 380 lb.-ft. (up by 30). Ford's first performance SUV comes standard with all-wheel drive, a system capable of disengaging traction to the rear wheels on the fly. There's also an all-new eight-speed automatic gearbox.
It's the same transmission as in the 2019 Edge, but it's been significantly reprogrammed. It's also water-cooled to help withstand the increased torque.
The chassis is now stiffer, and the suspension incorporates stiffer springs and more reactive dampers. The brakes are bigger, but they're designed in-house. Buyers will be able to opt for an optional bigger brake package.
The Edge ST distinguishes itself from its counterparts by way of a blackened grille and wheels fitted to high-performance Pirelli P Zero tires, red brake callipers, restyled bumpers and skirt kits, as well as sport bucket seats and carbon fibre trim inside.
How is It?
We drove the 2019 Edge ST in Utah, where the mountainous terrain and winding roads constituted to ideal sandbox to test it out. Immediately, the first thing you notice as you enter a corner is how stiff the chassis has become versus the standard vehicle. The suspension is also much harder, and the steering has a pleasant heft to it, further encouraging spirited driving.
The faster I went, the more at ease I was with the thing. Even during tight hairpin turns, hanging at the edge of cliffs with stellar views, the Edge proved capable even with its heavy V6 hanging on top of the front wheels. Its biggest quality is the amount of grip its all-wheel drivetrain and fat tires generate, allowing it to catapult itself out of a corner with little fuss. Chassis, suspension and brake calibration is therefore on par with the ST nomenclature.
So far, so good.
It's the drivetrain that disappoints. The Edge is a heavy vehicle, and even though that twin-turbo V6 produces nearly 400 lb.-ft. of twist, it still feels overwhelmed. Acceleration is far from astonishing considering this is supposed to be a performance SUV. Floor the throttle, and the entire thing doesn't feel much quicker than an Acura MDX fitted with a naturally aspirated V6.
Then, there's the way the ST sounds. Of course, the engine note has been amplified through the car's speaker system for "improved thrills." The problem is that this engine doesn't sound all that nice to begin with. What you end up with is a lamentable drone that floods the cabin, quickly discouraging any form of "honing." How ironic.
And the gearbox, oh lord, the gearbox. The irony here is that the eight-speed operates fantastically well when bolted onto the four-cylinder, yet here, it takes forever to downshift, and in some cases—the most important moments, such as when exiting a tight corner—it even refuses to downshift at all! Argh! Could this be attributed the engine's torque being too high for a transmission originally designed for a four-cylinder?
I asked Ford. They didn't have a clear answer for me. But they did agree the gearbox was slow to react at times.
All of this makes for an Edge ST that feels more like an updated version of an Edge Sport. We're far from the extreme track machines the ST moniker has given birth to in the past, where chassis and engine were so well intertwined that they encouraged their driver to push the machine to its limits. Instead, the end product is a clumsy-engineered SUV that isn't all that quick off the line.
With an entry price of $49,099 before freight and destination, Ford's new toy is an expensive one. Granted, the carmaker claims there's nothing else on the market that offers this much performance and versatility for this price. And it's true!
But even though Ford promises an SUV capable of competing against vehicles like the Audi SQ5, the BMW X3 M40i, the Jaguar F-PACE S and the Porsche Macan S, at a more attainable price, the sad reality is that it doesn't even come close to these machines from a performance standpoint.
Test drive report
Test model

2019 Ford Edge

Trim level
ST
Price range
$34,000 – $49,099
Price as tested
CA$49,099
Warranty (basic)
3 years/60,000 km
Warranty (powertrain)
5 years/100,000 km
Fuel economy (city/highway/observed)
12.6 / 9.2 / 11.7 L/100km
Options
N/A
Competitive models
Chevrolet Blazer, Nissan Murano
Strong points

Looks the part
Impressive chassis and suspension calibration
Alone in this price range

Weak points

Expensive
Laggy and dumb-witted automatic gearbox
V6 engine feels underpowered

Editor's rating
Fuel economy
We recorded an average of 11.7 L/100 km during performance driving. For an SUV of this size and weight, it's competitive.
Comfort
Generally speaking, the Edge is a roomy and comfortable vehicle, but the driving position is counter-ergonomic.
Performance
Outstanding chassis, suspension and brake tuning! Sadly, the Edge is a heavy vehicle, which makes it feel underpowered.
Infotainment
Ford SYNC 3 is an intuitive system filled with the latest tech, but it can prove complicated for beginners.
Driving
Pushing such a large and heavy vehicle on a tight winding road is immensely fun! Sadly, the lamentable engine note quickly discourages performance driving.
Overall
While the Edge ST does offer a lot of performance and versatility for the price, it doesn't pay homage to the iconic ST nameplate.