2019 Lamborghini Urus: The Long-legged Bull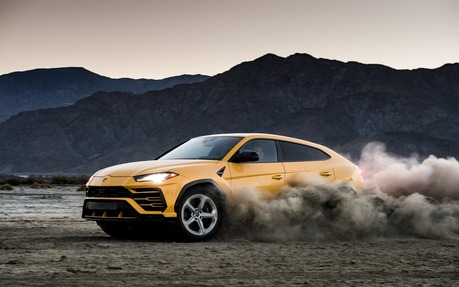 A Lamborghini SUV. Yep, that's a thing now.
The Italian automaker, which is known for its ultra-powerful and aerodynamic sports cars, is throwing its hat into the SUV ring by introducing the Urus.
The decision may strike some as odd, but the move is driven by hopes that it will boost the company's profitability. And it almost certainly will, as the Urus' order book is already full. In Canada, the new SUV is expected to double the automakers' sales.
If you're a purist inclined to spit on Lamborghini's long-legged ride, this may be a good time to remind you that the Urus isn't the first SUV to come out of the Sant'Agata plant. From 1986 to 1993, the automaker made the LM002, a chiselled mastodon with a V12 under its hood.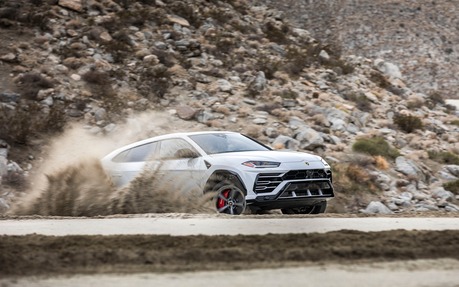 SUV or SSUV?
First things first: this isn't anything like the Rambo Lambo and its Hummer-esque looks. Lamborghini's new SUV is not the spiritual successor of the LM002. Far from it.
Lambo is going in a whole new direction with the Urus. They're even calling it an SSUV, which stands for "super sport utility vehicle." Sure, that may be mostly marketing speak, but it indicates the intention behind the model's development.
Instead of a traditional naturally aspirated V12, the Urus is equipped with a twin-turbo, 4.0?litre V8. With 650 horsepower and 627 lb.-ft. of torque, this hefty Italian stallion can bolt from 0 to 100 km/h in 3.6 seconds and reach 200 km/h in 12.8 seconds. According to its maker, the vehicle boasts a top speed of 305 km/h, despite the fact that it weighs almost 2,200 kilograms!
The Urus may be a tall beast, but its design remains similar to the Huracán and even the Aventador. It's clearly a purebred Lamborghini.
Well, except that neither its platform nor its engine are exclusive to Lambo. Both are used in other Volkswagen Group vehicles, especially Audi models. That said, Lamborghini has made a point of developing an SUV that's noticeably different than the Porsche Cayenne, Audi Q7 and Bentley Bentayga.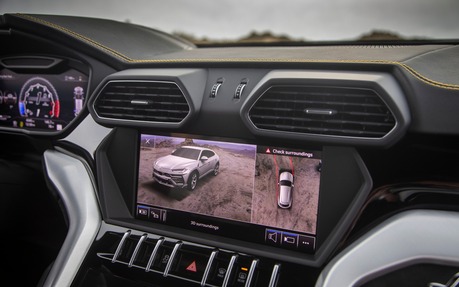 Inside and out, the Urus looks like a Lamborghini. Not everyone will like its streamlined style, but in a world where most SUVs look alike, you have to give the manufacturer credit for being bold.
The same applies to the inside. The centre console features a selection of six driving modes and the start button, which is hidden by the brand's signature red missile-launch-style cover.
The passenger compartment exudes performance and luxury with three touchscreens and countless features, including a massage function for the front seats. It's what you'd expect from a vehicle that costs more than many homes.
Since the Urus is an SUV, after all, Lamborghini has specified that its cargo hold is just big enough for two golf bags. Clearly, they know their target customers well.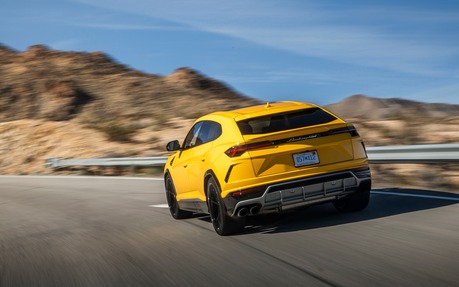 Built for the Track, Not the Trail
Lamborghini claims that the Urus is just as competent on a track as it is on a trail.
But having tested the vehicle in both situations, we can confidently say that the Urus is much more in its element on the racetrack.
Despite its dimensions, the Urus wasn't made for mountain climbing. It will take you to the cottage with ease, but don't venture too much off road. With 21-inch (or even 23-inch) wheels and low-profile tires, the risk of a blowout is pretty high.
Take the Urus to the track, however, and it's remarkably agile. In Corsa mode, it becomes a monster with a genuine Lamborghini growl.
And with a four-wheel steering system, the Urus offers unbelievable handling. It also comes with an air suspension to raise or lower the vehicle depending on the selected driving mode.
Lamborghini has truly risen to the occasion with the Urus, a vehicle that makes you forget that you're aboard an SUV. It's magic.
At what price? In Canada, it will start at $232,000. And how high can the price climb? "Sky is the limit," said the reps from Lamborghini, with a grin.
There's no question: the Urus is clearly a purebred Lamborghini.
Test drive report
Test model

2019 Lamborghini Urus

Trim level
Base
Price range
$232,000
Price as tested
232 000 $
Warranty (basic)
3 years/unlimited
Warranty (powertrain)
3 years/unlimited
Fuel economy (city/highway/observed)
16,7 / 9,7 / N/A L/100km
Options
N/A
Competitive models
Bentley Bentayga, Rolls-Royce Cullinan
Strong points

Impeccable handling
Undiluted Lamborghini DNA
Exclusivity guaranteed

Weak points

Exorbitant price
Limited cargo hold
Too many touch controls

Editor's rating
Fuel economy
You don't buy a Urus for its fuel efficiency.
Comfort
With seats that can massage you while you drive, who could ask for more?
Performance
On the track, you'll forget it's an SUV.
Infotainment
A huge improvement over the Aventador's archaic system.
Driving
The engine is impressive, but the Urus' unfailing handling steals the spotlight!
Overall
One helluva beast!