2019 Lincoln MKC: One Last Show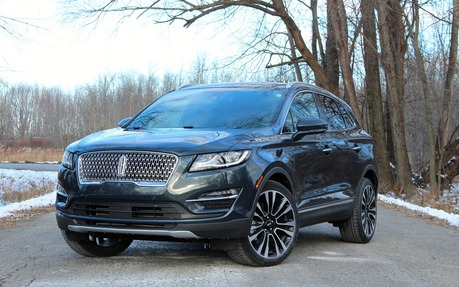 The MKC is knocking on death's door. The 2020 Lincoln Corsair, its replacement in the brand's line-up, was unveiled at this year's New York Auto Show. Wait—didn't the MKC get a facelift for the 2019 model year?
It did, and it doesn't make sense from a financial standpoint for the manufacturer. Oh, the changes between the 2018 model and the 2019 are very minor, but knowing that the Corsair was on its way, why did Lincoln invest money in redesigning the MKC's schnoz for one year?
Whatever the reason, the 2019 Lincoln MKC will be the last edition of the compact SUV that was launched in 2014. Destined to attract a younger clientele to the brand—and likely did—it consistently ranked second in sales for the brand in Canada, right behind the midsize MKX—which has just been renamed the Lincoln Nautilus.
The MKC isn't a bad vehicle, but line it up against rivals such as the Acura RDX, the Audi Q5, the BMW X3, the Infiniti QX50, the Mercedes-Benz GLC and the Volvo XC60, just to name a few, and it becomes a tough sale.
Under the hood, the turbocharged 2.0-litre four gets the job done with 245 horsepower and 275 pound-feet of torque. It's mated to a six-speed automatic transmission and an all-wheel drivetrain. Our MKC Reserve tester was equipped with a 2.3-litre unit that spits out 285 horsepower and well as 305 pound-feet. The extra muscle makes the SUV quite speedy, and fuel consumption is barely higher. The combined city/highway figure is 11.5 L/100 km, and we observed an average of 10.9 L/100 km during our test. However, all its competitors with four-cylinder engines are more efficient.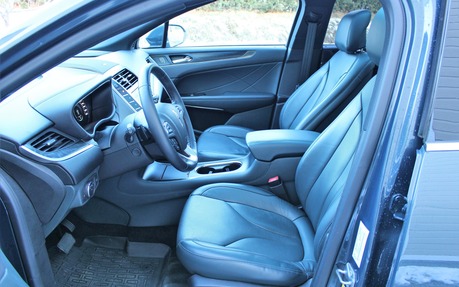 Every MKC includes an adaptive suspension with three driver-adjustable settings. Default is Normal, while Sport firms things up for a more dynamic drive. The Comfort setting makes the MKC's suspension very spongy, but not too bouncy, which is fantastic for soaking up the countless road imperfections we must deal with on a daily basis. This is one of the most supple rides in its segment, if that's what we're looking for.
The 2019 Lincoln MKC's interior fit and finish may not be able to match those in an Audi Q5, but it remains tasteful and well executed. The leather upholstery feels substantial, the wood trim is convincing, the switchgear feels solid, and a full array of buttons are conveniently located on the centre stack. The SYNC 3 infotainment system includes a user-friendly touchscreen interface, a powerful voice recognition system and a wide selection of available apps. It can also integrate Apple CarPlay and Android Auto if that's what we prefer using.
Priced at $1,100, the optional 14-speaker, THX II surround sound system is worth the investment if we're music lovers. And we like the fact that it's available in all trim levels, not just the most expensive one. It sounds about as good as some upscale stereos found in German luxury vehicles and which cost several thousand dollars.
Other available niceties in the 2019 Lincoln MKC are a panoramic sunroof, heated and ventilated front seats, heated rear seats, a heated steering wheel, a windshield wiper de-icer, active park assist, ambient lighting, a hands-free power tailgate and the usual advanced safety gizmos. Owners can also connect the MKC to their phone via an app to start, lock and unlock the doors and check the fuel tank level. On the other hand, the competition offers pretty much the same equipment list.
From a versatility standpoint, the Lincoln MKC is slightly below average regarding cargo space, whether the rear seatbacks are upright or folded down. At least the cargo area opening is wide as the tailgate covers the whole width of the rear end, like the one on the Q5. When properly equipped, towing capacity can reach 1,361 kilograms or 3,000 pounds, which is also the segment average. Rear-seat legroom isn't very generous.
Base price for the 2019 Lincoln MKC Select is set at $44,150 before freight and delivery charges. Our Reserve edition with the 2.3-litre engine and a bunch of options rings in at $55,720, or roughly the same price as a well-equipped Q5 or GLC. That's a problem, because brand perception is very important for most luxury vehicle shoppers, and we're not sure choosing Lincoln over Audi and Mercedes-Benz will impress the neighbours.
The 2020 Lincoln Corsair, which rides on an all-new platform and looks pretty good, seems more promising than a vehicle that's about to be discontinued. However, the Lincoln brand itself has a long way to go in order to compete with the German marques regarding pricing and prestige.
Test drive report
Test model

2019 Lincoln MKC

Trim level
Reserve 2.3 TI
Price range
$44,150 – $50,950
Price as tested
55 270 $
Warranty (basic)
4 years/80,000 km
Warranty (powertrain)
6 years/110,000 km
Fuel economy (city/highway/observed)
13,1 / 9,5 / 10,9 L/100km
Options
Technology package ($2,420), Enhanced THX II sound system ($1,100), 20-inch alloy wheels ($750), Tow package ($500)
Competitive models
Acura RDX, Audi Q5, BMW X3, Buick Envision, Cadillac XT5, GMC Terrain, Infiniti QX50, Land Rover Discovery Sport, Land Rover Range Rover Evoque, Lexus NX, Mercedes-Benz GLC, Porsche Macan, Volvo XC60
Strong points

Interior fit and finish
Torque-rich engines
Superb adaptive suspension

Weak points

As expensive as its German competition
Average cargo space
Brand perception needs work

Editor's rating
Fuel economy
Not bad, but should be better.
Comfort
Great seats and an adjustable suspension that includes a truly enjoyable Comfort mode.
Performance
The 2.3-litre engine provides lots of low-rpm torque, which makes the MKC quite speedy.
Infotainment
SYNC 3 is easy to use and includes lots of features. The THX II sound system is a must.
Driving
The MKC sharpens its reflexes in Sport mode, although it can't follow the pace of many rivals on a twisty road. Then again, no one's asking it to.
Overall
With solid powertrains, a well-appointed cockpit and a very comfortable ride, the MKC has a lot going for it. However, it can't justify costing as much as its established competitors that have stronger brand recognition.