2019 Lincoln Nautilus : A Fresh Start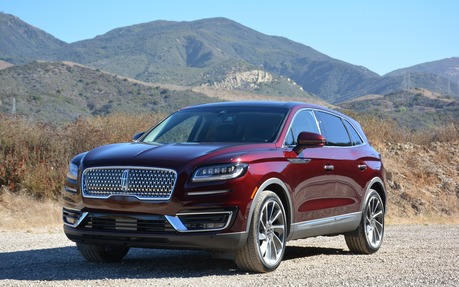 SANTA BARBARA, California – Lincoln isn't shy when talking about prior mistakes. I'm not talking about the amount of money thrown at Academy Award-winning actor Matthew McConaughey to be their spokesperson, which at least got some attention; more about their product line in the mid-to-late 2000 decade.
"Lincoln is on an amazing journey since 2012, and it's nice to turn it all around," explains Robert Parker, director of marketing, Lincoln Motor Company.
That turnaround starts and ends with product featuring a new design language, new engines and the creation of a warm and inviting interior environment filled with technology and connectivity. The American luxury company is also changing its product nomenclature. Soon, all the MK nameplates will be retired; for now, the MKX name—only two years into its new generational-cycle—has been changed to the Nautilus, an adventure and journey description also depicted by the Navigator and Continental.
Despite the name change, the Nautilus still sits on the same platform as the outgoing MKX and Ford Edge. It's basically undergoing a modernized refresh in order to reinvigorate the 2019 SUV. With a reasonable starting price of $50,450 before freight and delivery charges, loaded with standard safety features as well as a pick-up and delivery program, the Nautilus should slot in well with the ultra-competitive midsize utility segment.
Unified Design Language
The Nautilus dons the new face of Lincoln with its most notable signature grille that glistens in the sun. Its split wings are gone, replaced by a mesh block made out of the Lincoln star. The Nautilus' grille differs from the big, bold and in-your-face Navigator design, taking on a more condensed and sleeker setup more suited to its midsize frame. According to the folks at Lincoln, that new grille was originally designed for the Nautilus, it just happened to be the last one to adopt it. The grille is complemented by all-new optional LED headlamps and separated turn signal indicators.
Inside, a new 12.3-inch curved digital cluster sets the tone with customized and easy-to-use toggle buttons on its thick leather-wrapped steering wheel to choose your preferences. The infotainment screen will be familiar to many utilizing Ford's responsive SYNC 3 system with Apple CarPlay and Android Auto integration, as well as standard 4G LTE hotspot connectivity. As improved as the Nautilus' technology is, it could have gone further away from Ford. The driver interface and infotainment units are a step up from what was, but not as large, colourful, or in such high-definition as its Navigator sibling or other German luxury competitors.
Despite not having the most cutting-edge displays, one cannot argue with its standard package of safety equipment. Lincoln's Co-Pilot360, a suite of active safety technology, comes standard. It uses a number of cameras and radar to provide consumers with cross-traffic alert, pre-collision assist with automatic emergency braking, rearview camera, pedestrian detection, auto high beams, lane-keeping assist and a blind spot information system. Further enhancements to safety technology are only available on the top-of-the-line Reserve trim with evasive steer assist, adaptive cruise control with lane centering technology and a 360-degree camera system.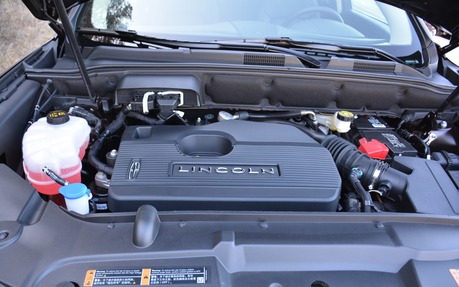 Engine Lineup Goes All-turbo
For the first time, Lincoln's midsize utility vehicle receives an all-turbo engine lineup. Gone is the 3.7-litre V6, swapped out during the early stages of development for a smaller 250-hp, 2.0-litre turbo unit aimed at balancing performance and fuel economy (12.0 L/100 km in the city and 9.6 L/100 km on the highway). If more power is needed, consumers can opt for the more powerful and twin-turbocharged, 2.7-litre V6 producing 335 hp and 380 lb.-ft. of torque. Both are mated to another new item, an eight-speed automatic transmission.
Between the two engines, the 2.7-litre is hands-down the more enjoyable one with enough gusto to make passing manoeuvres and bend through corners without the need to power down or apply steering corrections. That balance is aided by an all-wheel drive system that is standard in Canada. There's nothing wrong with the 2.0-litre and it's a solid base engine that can get a lot accomplished with just a little more effort.
Sport mode is found on its button gear shift than can get ever-so frustrating on three-point turns. It doesn't seem necessary, but alas, it looks like a fixed design cue within all Lincolns. At least it's easy to switch from D to S for some friskier throttle response with longer gearshifts and a tightened suspension.
Throughout the coastal cruise through Santa Barbara and its surrounding areas, both engine options provided a pleasant and smooth drive. To combat any unnecessary NVH, acoustic side glass along with other advanced engineering solutions such as continuously controlled damping and pothole mitigation technology were installed. The Nautilus softened those pothole dips, while wind noise was never a factor except for a brief moment that could have been due to a certain area of elevation.
Another key feature that adds to its calming nature and should win consumers over (Lincoln claims 50 per cent of its sales are conquests skewed towards females) is its 22-way seat adjustments. Once that perfect seating position is found, front occupants are nestled in and ready to explore. According to Lincoln, a team of orthopedic surgeons were brought in for consultation, and not surprisingly, a lumbar massage feature was added to reduce driving fatigue. Heated seats come standard, but unfortunately ventilated seats can only be had as an add-on.
Conclusion
The 2019 Nautilus shows off the next step in the rejuvenation of the Lincoln brand. Change always takes time, but this new version builds off the MKX with a further step in the right direction.
We were able to test out both engine options, and for under $5K (a total of $55,350 for Reserve), it seems logical to opt for the premium 2.7-litre powertrain that also comes equipped with more luxury accents and technologies, as well as a comparable fuel economy rating. It may not be the most innovative segment choice, but it's hard to neglect its comfort and standard touches all for a relatively affordable price. You definitely won't get blindsided by a severely bloated final price thanks to add-ons.
Test drive report
Test model

2019 Lincoln Nautilus

Trim level
2.7 EcoBoost TI
Price range
$50,000 – $57,000
Price as tested
57 000 $
Warranty (basic)
4 years/80,000 km
Warranty (powertrain)
6 years/110,000 km
Fuel economy (city/highway/observed)
12,6 / 9,2 / N/A L/100km
Options
N/A
Competitive models
Cadillac XT5, Audi Q5, BMW X3, Lexus RX, Mercedes-Benz GLC, Volvo XC60
Strong points

Two turbo engine options
Refined and comfortable cabin
Knows its customer base
Name change

Weak points

A step behind in infotainment and graphics
Doesn't blow you away
Basically a refreshed MKX

Editor's rating
Fuel economy
Its savings on fuel is pretty standard. Nothing overly exciting, but at least it's on par with most of its competitors.
Comfort
22-way seats set the comfort bar high only to be enhanced by a lumbar massage feature. Back-seat passengers have plenty of headroom and legroom to work with.
Performance
The Nautilus comes with two turbo-powered options. The 2.7-litre V6 is noticeably more peppy and worth the extra $5K.
Infotainment
Looks much better than the outgoing MKX, but it comes off looking too much like a Ford and a few years behind the big German three.
Driving
It offers a smooth and quiet ride geared more towards comfort.
Overall
The 2019 Lincoln Nautilus is a modern step in the right direction for the brand. The MKX needed a fix and the question remains whether comfort and price is enough to conquest more customers. It should resonate with its middle-aged consumer base.