Get Your Driver's Licence… in a Lamborghini Aventador!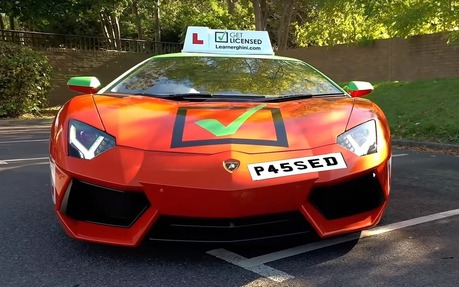 Driving schools typically choose entry-level compact cars such as the Honda Civic and Toyota Corolla for good reason. They're safe, easy to figure out and extremely driver-friendly.
But most importantly, they're not ultra-powerful, outrageously expensive machines that would scare the hell out of student drivers and potentially crash at some point.
Can you imagine a school that would allow young people to get behind the wheel of a 691-horsepower Lamborghini Aventador? Well, believe it or not, that's exactly what Get Licensed offers to U.K. drivers!
The school purchased the car from British YouTube star and rapper KSI, who once had it wrapped in chrome purple, then matte black, before eventually selling it. In its new role, the Aventador was renamed "Learnerghini."
In addition to the extreme power at their disposal, student drivers have to adjust to the radical driving position and super-limited visibility. Straight-line accelerations are nice, but you have to make a turn or go in reverse at some point, right?
On the flip side, learning how to drive with a Lamborghini probably makes every other car after that feel like child's play.
Of course, this unique experience has a price: 10 lessons cost £20,000, the equivalent of about $35,000. Still interested?