2020 Genesis G90: An Affordable, 420-Hp Limo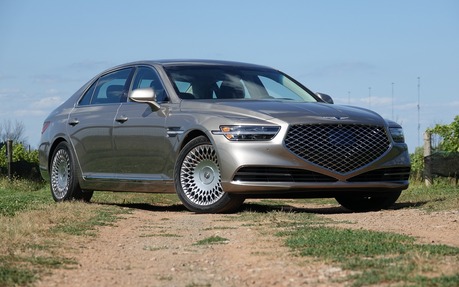 NIAGARA, Ontario—The Genesis G70 sports sedan has been racking up the awards lately and the company is selling hundreds of units, closing the gap with more established competitors. Meanwhile, the larger G90 is virtually going unnoticed. So far this year it has barely sold more than 20 copies in Canada.
And yet everybody at Genesis keeps smiling because Korea's first luxury car brand has big ambitions, solid resources and a growth plan that stretches over several years. Each model is just one piece of the puzzle.
Richard Trevisan, Brand Director for Genesis Motors Canada, was quick to remind us that the company will launch its first SUV in 2020 and a second in 2021. And if they're as good as the G70, the impact on sales will be huge, no doubt about it.
Expanding the Lineup and Network
"What's coming next year is just the beginning," Trevisan says. By the end of 2020 Genesis should boast 30 retailers across the country, a third more than it has at the moment. We're not talking about traditional car dealers, but rather entrepreneurs whose mission is to complete transactions and deliver vehicles according to the standards and requirements of Genesis.
Many will be located in what the brand calls "Experience Centres," with plenty of room for potential customers to see, touch and choose the colours of the car they started shopping for online. People can also book a test drive via their mobile device and a vehicle will be taken to them instead of the other way around.
Once you've bought a Genesis, a valet will pick it up for maintenance and loan you another car for free until work is finished. These are just some of the ways Genesis is attempting to stand out from the competition.
Taking Care of the Flagship
The new 2020 Genesis G90 made its debut last fall in Korea, where sales have increased 113 percent and amount to 12,052 units so far in 2019. In fact, it has become a source of national pride over there and the first choice of presidents and other dignitaries.
In Canada, it's a different story. The G90 is far from matching the popularity of the Mercedes-Benz S-Class and Lexus LS—its two main rivals.
For 2020, the four doors are the only thing that's unchanged from the previous year. The front fascia incorporates a new pentagon-shaped, mesh-type grille that's supposed to resemble a glistening diamond.
That same "G-Matrix" motif can be found in many other places because Genesis' head of design, Luc Donckerwolke, believes that light is the fourth element of design. This man is quite an expert in the field: after penning the Lamborghini Murciélago and Gallardo, he worked for Bentley as chief stylist. The influence is evident in the G90's upright flanks, high beltline and large, trellis-style wheels that together create a majestic appearance.
The lower grille and the character lines on the hood give the flagship a sharper, more youthful-looking face. Same thing for the four-point headlights, which will trickle down to other Genesis models in the future, Trevisan says. The similarly styled taillights are part of the new design language, as well.
Variations of Familiar Themes
Inside, there is no revolution in terms of design, but still quite a few tweaks. The 12.3-inch centre display is now touch-sensitive and much more useful than the big rotary dial on the console, even though it's recessed into the dashboard and therefore a bit hard to reach.
We love the satin aluminum accents on the console, where leather has replaced piano black trim and even surrounds the electronic shifter. There are new features and gadgets, too. Suffice to say the 2020 Genesis G90 lacks absolutely nothing—even the fancy and superfluous stuff.
Starting at $89,750, this Korean full-size sedan is substantially cheaper than competitors. The lone option on the menu is a pair of 10.3-inch monitors for rear outboard passengers. Lift the humongous, button-filled centre armrest and you'll be able to accommodate a fifth person in a pinch. There is a ton of room back there, except maybe for the tip of your feet when the front seats are set in their lowest position. As for material selection, fit and finish, not a single complain can be made.
Impressive Power and Poise
The Genesis G90 now comes standard with the 5.0-litre V8 engine rated at 420 horsepower and mated to an eight-speed, second-generation Shiftronic automatic transmission, developed internally, with an all-wheel drive system by Ontario's Magna. The 365-horsepower, twin-turbocharged 3.3-litre V6 is available as a special order only. While pricing is down to just over $86,000, this model gets smaller front brake discs (360 mm vs. 375 mm) and lacks the infinitely adjustable rear seats.
On the road, the front occupants enjoy supreme comfort and an impeccable driving position. The ride is wonderfully smooth and quiet thanks to dual-layer acoustic glass, noise-cancelling wheels and more. However, when the pavement gets rougher and more uneven, the G90 starts to shake a bit and this is particularly felt in the rear. Air springs could fix that, but the price would inevitably go up.
Power delivery is smooth and the sound of the V8 at full throttle is quite rewarding. In Sport mode, you can even choose from three intensity levels. The car's reflexes become sharper and cornering agility is amazing. You would never know you're driving such a big and heavy sedan.
Ultimately, the refreshed and more refined 2020 Genesis G90 has a lot to offer to customers seeking quality, opulence and personalized service at a decent price. Those more concerned about the name or badge will likely shop elsewhere, but the company doesn't care; a new chapter is about to be written.
Test drive report
Test model

2020 Genesis G90

Trim level
5.0 Prestige
Price range
$86,000 – $89,750
Price as tested
89 750 $
Warranty (basic)
5 years/100,000 km
Warranty (powertrain)
5 years/100,000 km
Fuel economy (city/highway/observed)
15,4 / 10,2 / N/A L/100km
Options
10.3-inch monitors for rear outboard passengers
Competitive models
Audi A8, BMW 7 Series, Cadillac CT6, Jaguar XJ, Lexus LS, Mercedes-Benz S-Class, Tesla Model S
Strong points

Unbeatable value
Powerful and flexible V8
Flawless ergonomics
Highly comfortable seats
Solid driving dynamics

Weak points

Less fuel-efficient than rivals
Conservatively styled interior
Centre touchscreen is hard to reach
Ride quality is compromised on bumpy roads
Lower resale value

Editor's rating
Fuel economy
There's a price to pay for the sweet power and sound of the naturally aspirated V8.
Comfort
The ride is generally super-smooth and quiet, except for some jolts on rough and uneven pavement.
Performance
The V8 is powerful, flexible and pleasant to the ear, while the eight-speed Shiftronic transmission is a good match.
Infotainment
The interface is logically designed and easy to figure out despite the numerous controls and a centre touchscreen that's hard to reach.
Driving
Comfort is the top priority, though the G90 proves surprisingly agile and stable in Sport mode.
Overall
This generously equipped full-size luxury sedan makes for an unbeatably priced limo.