10 Years of Porsche Panamera Celebrated with a Special Edition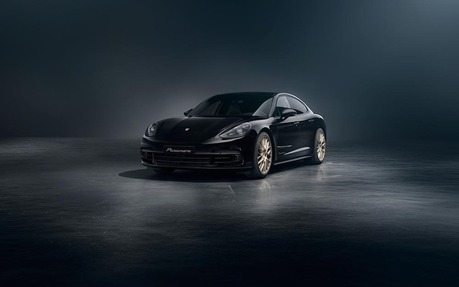 The Porsche Panamera made its debut a decade ago, which prompted the company to introduce a special 10 Year Edition featuring upgraded standard equipment and exclusive design highlights.
This new anniversary edition is available in Canada on the Panamera 4 and Panamera 4 E-Hybrid models. Deliveries are expected to begin in the first quarter of 2020.
First, you'll notice 21-inch Panamera Sport Design wheels in satin-gloss White Gold Metallic and "Panamera10" logos on the front doors, also in White Gold Metallic. The anniversary logo can also be found in the interior on the front passenger trim panel and on the door sills. The interior is black with deviated stitching in White Gold.
The Porsche Panamera 10 Year Edition comes standard with many additional comfort and safety features including ParkAssist with Surround View, LED matrix headlights, Lane Change Assist and Lane Keep Assist (LKA), 14-way comfort seats with a Porsche crest on the headrests, soft-close doors and a Bose surround sound system.
Sporty drivers will certainly appreciate the adaptive three-chamber air suspension including Porsche Active Suspension Management (PASM) and the Power Steering Plus system. Additionally, the hybrid model gets the otherwise optional 7.2-kW on-board charger rather than the 3.6-kW charger that is included in a standard Panamera 4 E-Hybrid.
The Porsche Panamera 4 10 Year Edition uses a turbocharged 3.0-litre V6 engine that cranks out 330 horsepower, while the Panamera 4 E-Hybrid 10 Year Edition combines a twin-turbo 2.9-litre V6 with an electric motor to generate a total of 457 horsepower. Pricing starts at $122,000 and $132,700, respectively.
In other Porsche news, the company yesterday began operations at its first-ever Canadian parts distribution centre located in Mississauga, Ontario. The supply hub offers state-of-the-art ground and air overnight delivery to the 19 Porsche dealers across the country.
The first shipment to leave the warehouse was destined for the province of Quebec, which is home to four Porsche dealers.