Hyundai and Uber Present Air Taxi Concept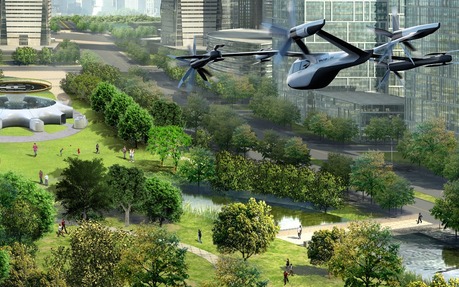 Flying cars have captured our imagination for a long time, but they're still many years away from hitting the sky in cities around the world.
At the 2020 CES in Las Vegas this week, Hyundai and Uber announced a new partnership to develop Uber Air Taxis for a future aerial ride share network as part of the Uber Elevate initiative. They even unveiled a full-scale aircraft concept.
Hyundai will produce and deploy the air vehicles, and Uber will provide airspace support services, connections to ground transportation, and customer interfaces through an aerial ride share network. Both parties are collaborating on infrastructure concepts to support take-off and landing for this new class of vehicles, as seen on the picture below.
"Hyundai is our first vehicle partner with experience of manufacturing passenger cars on a global scale," said Eric Allison, head of Uber Elevate. "We believe Hyundai has the potential to build Uber Air vehicles at rates unseen in the current aerospace industry, producing high-quality, reliable aircraft at high volumes to drive down passenger costs per trip."
The S-A1 model introduced at CES is designed to take off vertically, transition to wing-borne lift in cruise and then transition back to vertical flight to land. It boasts a cruising speed of up to 290 km/h, a cruising altitude of around 300-600 metres and a range of up to 100 kilometres.
The fully electric powertrain draws energy from high-efficiency batteries that will require about five to seven minutes of charging during peak hours. There are a dozen small rotors around the aircraft to maintain safe operation should any of them fail at some point. This configuration also reduces noise relative to large-rotor helicopters with combustion engines, which is very important to cities, Hyundai points out.
The vehicle will be piloted initially, but the long-term plan is to make it fully autonomous. The cabin has four seats and reportedly enough space for every passenger to carry a personal bag or backpack.
The Uber Air Taxi built by Hyundai was created in part through Uber's open-design process, which jump-starts innovation by publicly releasing vehicle design concepts so any company can use them to innovate their air taxi models and engineering technologies. No timetable has been specified, however.