2021 Acura TLX: We Chat With Acura Canada's Brand Manager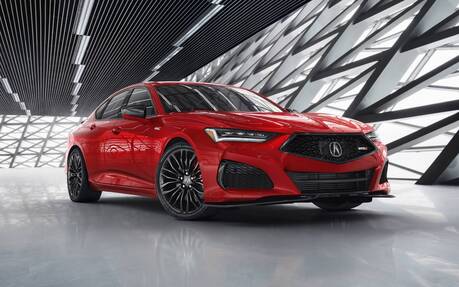 On the eve of the virtual world premiere of the all-new, second-generation 2021 Acura TLX, The Car Guide spoke with Emile Korkor, brand manager at Acura Canada, to get additional insights about the car and the company's overall strategy.
First, you need to know a few things. The launch came just a few days after we received confirmation that the poor-selling RLX will be eliminated in North America after 2020, leaving Acura with just the little-known ILX and the good-but-not-good-enough TLX. Today's consumers are obsessed with sport utility vehicles and crossovers; in fact, the RDX-MDX duo accounts for a bit more than 70 percent of Acura sales.
So, why continue with sedans?
"We made our name in the performance sedan business; this is what customers expect from us. We at least owe it to ourselves to maintain that heritage," says Korkor. "SUVs are nice, but if you're looking for an exhilarating drive, you'll find it in a car."
On a related note, many of you have surely noticed that Acura does not currently offer a model below the RDX at a time when small luxury SUVs are bursting onto the scene. Most competitors have one. However, that does not seem to be a priority for the Canadian exec, who told us Acura must still prioritize and strengthen its fundamental pieces—compact and midsize cars and SUVs, plus performance models—before exploring new segments.
Mea Culpa
Korkor admits that, for a while, many consumers were not quite sure what Acura is really about. The brand's identity was not so clear, both in terms of styling and driving. Things have improved somewhat lately, but there's still a lot of work to do.
"We need to avoid past mistakes, trying to beat certain makes at their own game, like the comfort of Lexus and the handling of BMW," he explains. "We must carve our own niche. Above all, we want to provide joy and create passion."
A car like the 2021 TLX sure looks like a good example of Acura's new strategy. On one hand, the company is returning to its glorious roots by bringing back the Type S, set to become the quickest and best-handling sedan in the brand's 35-year history. On the other hand, there's this huge emphasis on modern technology inside and under the body, a lot of which comes from the best-selling RDX.
The TLX Type S also has an all-new turbocharged 3.0-litre V6 developed by members of the NSX team. Output has yet to be specified, which is too bad, but Korkor told us to expect "insane" power and a massive jump in torque from the old naturally aspirated V6.
In case you're wondering, there will be no TLX Hybrid. Acura could easily have used the advanced powertrain in the departing RLX, but apparently that is not part of the plan—at least for now.
Will this next-gen TLX stand out from other compact luxury sedans enough to attract more customers? It certainly does not lack appeal and character, with a design that stays remarkably true to the superb Type S Concept from last summer.
"I would say the biggest shortcoming of the TLX was that it was too conservative for some and a bit diluted," confesses Korkor. "But now we've made improvements across the line and developed a more concentrated product, with lots of style and presence that should create a stronger emotional connection with people."