Acura Type S Concept Previews Two New Performance Models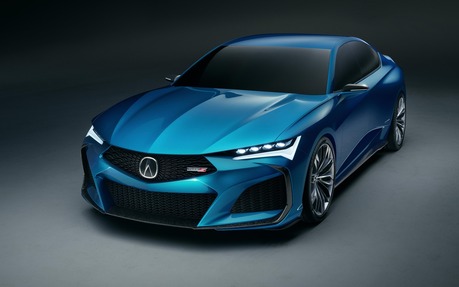 As part of the Monterey Car Week in California, Acura is debuting a brand new sedan concept that sets the stage for the launch two Type S performance variants in the next two years after a decade-long hiatus, beginning with the second-generation TLX Type S.
The design is spectacular with a powerful and expressive silhouette. Building on the foundational beauty and style of the Acura Precision Concept, the Type S Concept is characterized by a long wheelbase, wide track and low stance, with an expansive hood that stretches forward from the A-pillars.
Other highlights include an evolution of the brand's Jewel Eye LED headlights, large centre and side intakes, an open-surface Diamond Pentagon grille as well as "Chicane" daytime running lights and taillights inspired from the Acura ARX-05 Daytona Prototype race car.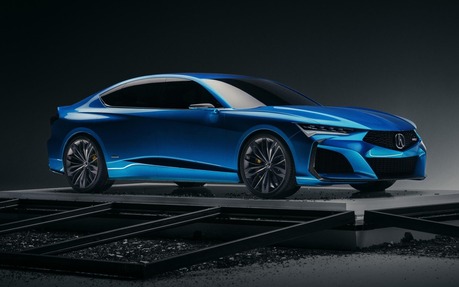 The side profile is just as impressive as the front fascia, with a graceful roofline that combines with strong character lines. The missing door handles make for a cleaner look, but will they reappear on the production model? We'll see.
Meanwhile, the distinctive tail features an upswept decklid with a sharply creased centerline and integrated forged carbon spoiler, a large rear diffuser and quad chrome exhaust outlets.
The front and rear splitters, side sills and multi-spoke 21-inch wheels are all made of carbon fibre. The latter are wrapped in 285-mm wide summer performance tires and fitted with drilled Brembo disc brakes with four-piston calipers.
And how can we not talk about the Type S Concept's bespoke "Double Apex Blue Pearl" paint? It reflects a liquid and electric hue that pays homage to blue Type S heritage models, including the acclaimed 2007-2008 TL Type S.
Unfortunately, Acura did not provide any details about the Type S powertrain, nor did it identify the second model that will receive the Type S treatment (though we suspect it will be the RDX crossover).
"The return of Type S is instrumental in our mission to return Acura to its performance roots," said Jon Ikeda, Vice President and Acura Brand Officer. "From bringing back the NSX to winning at the highest level of North American sports car racing and ushering-in a new generation starting with the RDX, we are revitalizing Acura on the foundation of our original and authentic brand values, piece by piece."
In case you're wondering, Acura sold four different Type S models from 2001 through 2008 including the 2001-2003 Acura 3.2CL Type S, 2002-2003 Acura 3.2TL Type S, 2002-2006 Acura RSX Type S and 2007-2008 Acura TL Type S.