2021 Chevrolet Silverado HD Can Tow up to 36,000 Pounds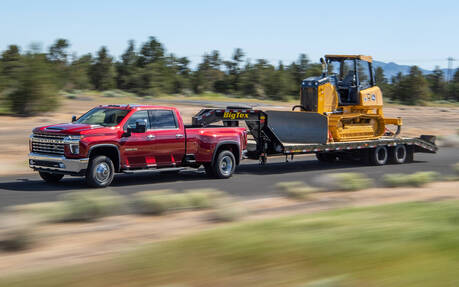 Just a few weeks after announcing a series of updates and enhancements to the Silverado 1500 for 2021, Chevrolet strikes back with a revised and more capable Silverado HD. The towing war is far from over, folks.
Thanks to hardware upgrades to the suspension and packaging changes to the wheels, Chevy engineers managed to increase the truck's max towing capacity to 36,000 pounds—more than five times its own weight.
In order to get that, you have to select a Silverado 3500HD 4x2 with dual rear wheels, 6.6-litre Duramax diesel V8 (445 horsepower, 910 pound-feet of torque), 10-speed Allison transmission and Max Tow Package.
Obviously, it's more than the Ram Heavy Duty's 35,100 pounds. However, in claiming "best-in-class" capability, Chevrolet forgot one important detail: the latest Ford Super Duty equipped with the Power Stroke diesel engine (475 horsepower, 1,050 pound-feet of torque) can tow up to 37,000 pounds. Oops.
In addition to pulling heavier loads, 2021 Silverado HD customers will have an easier time doing their job thanks to a number of technological enhancements. For starters, with the new Trailer Length Indicator (activated at the same time as the turn signal), the centre screen displays a red overlay twice the length of the trailer and shows when other vehicles are present and may interfere with a lane-change manoeuvre.
Also new for 2021, Jack-Knife Alert tracks the position of the trailer in relation to the pickup. If the front of the trailer approaches the rear of the vehicle, an alert is displayed when there may be a potential jack-knife situation, thus preventing damage.
Furthermore, Rear Side View, which provides a split view of the left and right sides of the truck and trailer, is now accessible while driving in reverse, as well. Rear Trailer View has been enhanced to include guidelines that assist when backing a trailer into place and a Trailer-Angle Indicator to show the relationship between the truck and trailer. As for the Cargo Bed View, a new zoom feature and bed hitch guidance can be helpful for aligning and hooking up a gooseneck/fifth-wheel trailer.
The 2021 Chevrolet Silverado HD also offers more available and standard equipment, two new body colours and four unique special editions (to be confirmed for Canada)—Midnight, Z71 Sport, Z71 Chrome Sport and Carhartt. No word on the new MultiFlex tailgate, however.
Production has already started and the first units will arrive at Chevrolet dealerships later this fall.