Audi e-tron GT: The Car Guide Takes an Inside Look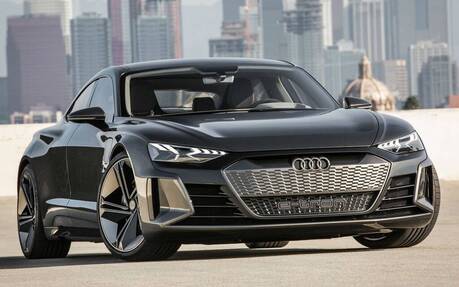 The all-electric Audi e-tron GT is coming for 2021. Pre-production has already started at the Böllinger Höfe assembly plant alongside the V10-powered Audi R8 sports car.
The Car Guide was recently invited to attend a presentation on this highly anticipated EV. Camouflaged prototypes are undergoing the final phase of testing. Actual production will start toward the end of 2020.
Special Sound
While the Audi e-tron GT is a silent, purely electric vehicle, it must comply with European and North American regulations that demand a sound to alert nearby pedestrians in urban areas.
In Audi's case, that sound has to evoke performance from the driver's perspective and reflect the car's actions including sprints from any speed as well as deceleration and braking. People are so used to the growl of a combustion engine, especially in sporty cars. How can an EV be similarly exciting to hear with artificial sound effects?
Audi engineers Rudolf Halbmeir and Stephan Gsell worked to create the perfect unique "voice" for the new e-tron GT. They did multiple tests with various recordings and ultimately came up with a mix of a remote-controlled helicopter toy and the sound of wind blowing through a metal pipe. You can listen to the result in this video:
Personally, it's fantastic. Other people might disagree, but we think this sound won't become annoying after any period of time. There are two exterior speakers for pedestrians—one in the front and another in the rear—and two interior speakers for occupants.  
Two-stage Series Production
The R8 assembly plant needed some retooling and shuffling to accommodate production of the Audi e-tron GT. Most of the manufacturing processes were first designed through virtual reality before being physically implemented on the assembly line—something the German brand had never previously done.
Production of the car is divided into two stages with 10 computer-controlled robots using 32 different tools to build the composite structure made of aluminum and high-strength steel.
Post-production Testing
Once the Audi e-tron GT is fully assembled, a test driver takes it on a 40-kilometre course mixing highways with city streets. Back at the plant, it goes through a waterproofing test for eight long minutes, then a meticulous inspection inside two light tunnels where specialists can identify any build quality issues with the body and cockpit.
The e-tron GT will officially hit the global market in early 2021. Audi anticipates strong demand based on the number of reservations received so far. The Car Guide will keep a close eye on future developments and announcements, so stay in touch.