2021 Genesis G80: A Slap in the Face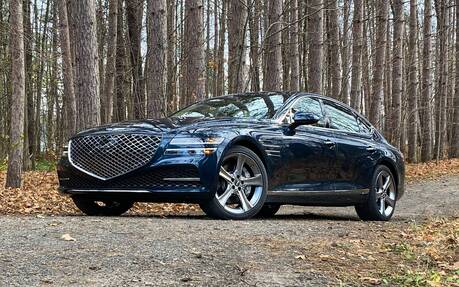 The newly updated 2021 Genesis G80 is a real slap in the face of all those car manufacturers that dropped out of the midsize luxury segment in recent years—particularly Lincoln, which definitely could learn a lesson from its Korean rival.
The G80 is a sedan that many Americans would surely have embraced if it were sporting a domestic badge. Will more of them show interest this time? That remains to be seen.
No matter how popular SUVs are nowadays, there are still plenty of folks who want to drive a large car, especially in the U.S. where these automobiles have a rich tradition. The value proposition just isn't there anymore. Once again, take Lincoln for example. The departing Continental was just as expensive to lease as a Navigator priced $15,000 above it.
Also, automakers don't seem to spend nearly as much effort developing cars as they do with SUVs and pickups, resulting in less impressive products. Genesis is different. Believe it or not, the G80 is the second most popular car in South Korea. This justifies investing lots of money into advanced platforms and technologies, and there's a good chance North American customers will take note.
Simple and Straightforward
While our neighbours south of the border have many trim levels to choose from along with RWD and AWD configurations, we on the other hand have more limited selection due to the much smaller size of the Canadian market. The 2021 Genesis G80 comes down to the 2.5t Advanced featuring a turbocharged four-cylinder engine and the 3.5t Prestige powered by a twin-turbo V6. Also, AWD is standard on both.
These two models are fully loaded, by the way. What we mean by that is there are no options on the menu except a wide array of exterior and interior colours available at no extra cost. Pricing, which is set at $66,000 and $76,000, respectively, even includes freight and delivery charges, the Genesis at Home concierge service, complimentary scheduled maintenance, Genesis Connected Services, map updates and more, all for five years or 100,000 kilometres.
Elegant Past the Grille
The new G80 aims to make a powerful statement on the road and that starts with a massive front grille—literally the next big thing in design across the auto industry. Some will say it's too much, and we tend to agree. Plus, with all that chrome, you can see it from a mile away. There is no sport or black package that would give the car a darker or more restrained appearance.
On a positive note, the lines are classy and super-elegant, including the imaginary ones that connect the headlights with the taillights. With a long, Jaguar-style nose and sloping rear window, the G80 looks like the Audi A7 from the rear three-quarter angle. Overall, we expect this car to age well and make people quickly forget about the outgoing model, which sold a mere 324 units in Canada last year.
The 2021 Genesis G80 is even more stunning inside, with styling and build quality that match the finest midsize sedans on the market. Designers opted for a bold combination of unique colours and trim pieces, while material selection is refined. It most certainly has the look and feel of a super-modern luxury automobile. In fact, Genesis' attention to detail is almost on the same level as Bentley's.
Comfortably settled in the driver's seat, you can enjoy the exceptionally quiet and relaxing environment resulting from the use of laminated glass all around and active noise cancellation technology that produces sound waves through the speakers to considerably mitigate undesirable road noise.
Speaking of which, standard content includes a 21-speaker Lexicon premium sound system, panoramic sunroof, heated and ventilated front seats, as well as a large 14.5-inch touchscreen with navigation. The G80 3.5t Prestige adds an amazing 3D digital instrument panel, Alcantara headliner and ergonomically designed Nappa leather seats with a massage function you will rapidly get addicted to.
On top of that, of course, is a plethora of advanced safety and driver assistance features that do a superb job of preventing accidents, although winter conditions will naturally pose a problem. 
What, Just Four Cylinders?
As mentioned earlier, the base engine is a turbocharged 2.5-litre four-cylinder. Don't worry, it delivers more power (300 hp) than a comparable Audi A6 or Mercedes-Benz E 350 4MATIC. An eight-speed automatic transmission handles shifting duties. In normal driving conditions, torque is entirely distributed to the rear axle, with the ability to drive just one of the rear wheels if need be. Alternatively, 50 percent of the torque can be sent to the front axle to maximize traction and balance.
Trust us, the G80 2.5t is potent enough. However, it's kind of hard to believe there are 300 horses under the hood. The 248-hp, 2.0-litre Audi A6 is just as quick from a standstill. For sure, the Genesis mill is extremely subtle. Once again, the excellent sound insulation deserves credit.
The twin-turbo V6 in the G80 3.5t produces 375 hp, which is obviously better in terms of acceleration but not necessarily spectacular. We appreciated the smooth operation more than the extra gusto.
All the journalists on hand for the media drive event agreed that they would take the four-cylinder version if it were their money on the line. While sprints are slower, the $10,000 price difference is tough to ignore and handling is more fun. Why? Because the V6 makes the front end of the car heavier, thus affecting weight distribution and balance in corners. The 3.5t also feels less sharp from a steering standpoint, and its 20-inch wheels result in a firmer ride than with the 19-inch units on the base G80.
Let's be honest, this is no sports sedan. However, the updated 2021 model is a much better handler than its predecessor. Plus, with the various drive modes that are now available, the G80 has a split personality that we enjoyed quite a bit.
Going Against the Current
In addition to Lincoln, three Japanese competitors have recently left the market including the Acura RLX, Infiniti Q70 and Lexus GS. The battle now takes place between the Genesis G80, Jaguar XF, Volvo S90 and the unbeatable German trio.
The Korean automaker has a golden opportunity to increase its presence without relying solely on an SUV like the new GV80. The high-quality, extremely luxurious G80 is currently the only serious alternative to the Audi, BMW and Mercedes-Benz sedans, offering a very pleasant driving experience and value that's impossible to match, backed by a more generous warranty and fantastic customer service.
Test drive report
Test model

2021 Genesis G80

Trim level
2.5T Advanced
Price range
$66,000 – $76,000
Price as tested
66 000 $
Warranty (basic)
5 years/100,000 km
Warranty (powertrain)
5 years/unlimited
Fuel economy (city/highway/observed)
11,5 / 8,6 / 11,1 L/100km
Options
N/A
Competitive models
2021 Audi A6, 2021 BMW 5 Series, 2021 Mercedes-Benz E-Class, 2021 Jaguar XF, 2021 Volvo S90
Strong points

Excellent build quality
Supreme elegance
Long list of features
Remarkable road manners
Attractive warranty and customer service

Weak points

Fast depreciation to be expected
No sport model
Reliability is a question mark
Oversized grille may be too much for some

Editor's rating
Fuel economy
While not catastrophic, fuel economy is slightly worse than average.
Comfort
The G80 provides regal comfort with class-leading noise levels.
Performance
The large size and heavy weight affect acceleration, but the G80 delivers a good mix of power and performance overall.
Infotainment
Everything is in place to ensure friendly operation, although drivers have to stretch to access the far corners of the centre display.
Driving
With a lighter front end, the four-cylinder variant is more pleasant to drive on twisty roads.
Overall
The updated G80 is a superb automobile that will likely enjoy a fair amount of success, especially in the U.S.