Ford Bronco Goes Extreme Off-Road Racing Again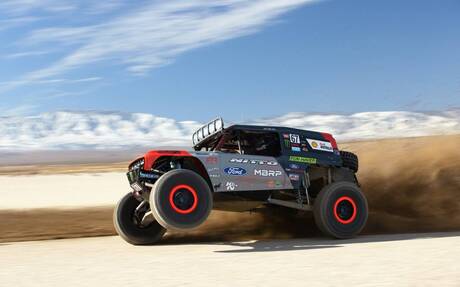 Before the all-new Ford Bronco made its debut last year, the automaker developed a prototype for desert racing events like the Baja 1000. Well, it's back at it again, introducing a trio of custom-built Broncos you absolutely need to see.
These highly modified 4x4s are taking part this week in the ULTRA4 King of the Hammers down in California's Johnson Valley. It's one of the most extreme off-road competitions on the planet, consisting of 150-km courses across high-speed desert sands and rock crawling across tricky terrain. The official race is Saturday, with 450 teams expected from around the world.
Ford, which is also the official vehicle partner of the event, created Bronco 4400 race trucks for the Unlimited class. Of course, they have little in common with the road-going versions, featuring a fully custom tubular chassis with massive off-road tires and long-travel shocks.
Some "high-power engines" are found under the hood, though Ford couldn't be more specific, We know that each Bronco 4400 has a custom 4x4 driveline system, however.
Inside, the cabin is stripped down to race essentials and fitted with the first-ever FIA off-road-certified Pro Pacer XL ORV race shell from Recaro.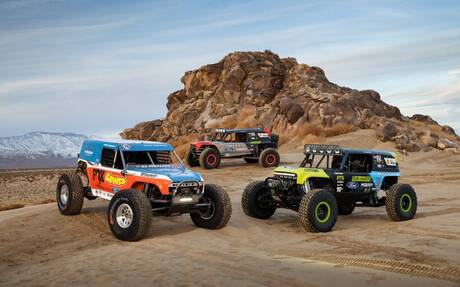 "King of the Hammers inspired us to ensure every production Bronco model delivers the capability, durability and high-speed off-road experience this growing off-road enthusiast community has been trying to create on their own," said Mark Grueber, Bronco marketing manager.
The 2021 King of the Hammers race will be livestreamed at www.ultra4racing.com/ultra4-racing-live. Don't miss the photo gallery above and then watch the following video showing the new Ford Bronco in action: