Hennessey's Ford Bronco to Get a 750-horsepower V8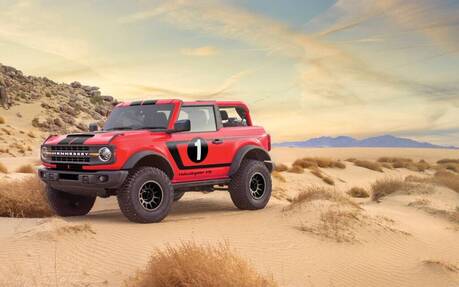 It was only a matter of time before Hennessey decided to work on the all-new 2021 Ford Bronco. When the anticipated off-road SUV rolls off the assembly line next year, prepare to see a VelociRaptor V8 Bronco not long after.
This almighty creature developed by the Texas-based tuning company will feature a supercharged 5.0-litre V8 engine and generate as much as 750 horsepower—way more than the turbocharged four- and six-cylinder EcoBoosts that standard Bronco customers will have to choose from, which produce 270 and 310 horsepower, respectively.
It's the same supercharged V8 that Hennessey is used to install in F-150 Raptor pickups in place of the 3.5-litre EcoBoost V6. Equipped with the same 10-speed automatic transmission, the VelociRaptor V8 Bronco will sprint from 0-97 km/h in just 4.5 seconds, according to Hennessey's projections.
High-flow air induction, new fuel injectors, a stainless steel cat-back exhaust system and more will make it all possible.
Of course, the vehicle's transformation goes beyond the powertrain. The long list of upgrades includes a unique front grille and bumpers, custom hood with scoop, larger wheels and tires, VelociRaptor V8 racing livery graphics, upgraded suspension system and a custom Hennessey leather interior with a serialized plaque. 
Oh yeah, production for the 2021 model year will be limited to only 24 units, both in two- and four-door configurations. Each one will cost—wait for it—$225,000 USD, or about $300,000 CAD, plus taxes and shipping. 
By the way, Ford is working on a more muscular Bronco of its own (possibly called "Bronco Warthog"), but even that one won't have more than six cylinders. And you can bet Hennessey will want to respond to that, too.
Watch: Inside Look at the Ford Bronco