The Car Guide's Best Buys for 2021: Tesla
Model 3

and

Model Y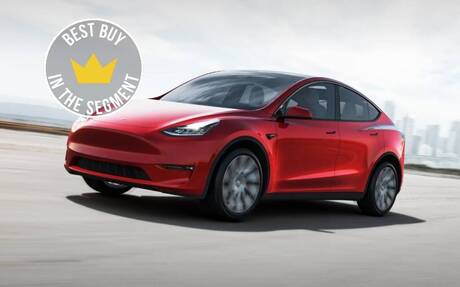 Every year, The Car Guide unveils a list of Best Buys covering all the different vehicle categories in the industry.
Electric cars have come a long way since the start of the last decade, mainly because of Tesla's leadership which has forced other manufacturers to step up their game.
Our Best Buy for 2021
The best buy you can make this year, in our opinion, is a pair of Teslas. The Model 3 and Model Y share a number of components, with the latter offering more interior room and versatility.
Equipped with a battery that manages to retain its charge remarkably well, these two vehicles prove a lot more energy-efficient than the competition. They also boast a strong powertrain delivering lightning-quick acceleration and passing manoeuvres.
Another highlight of the Model 3 and Model Y is their class-leading infotainment system. And don't forget Tesla's Supercharger network allowing owners to charge twice as fast as most fast-charging stations currently available in North America.
The biggest complaint is disappointing build quality. For more information, read this.
The Other Finalists
Second place in the EV segment goes to the Kia Soul EV. This fully electric variant of Kia's boxy hatchback/crossover offers superior performance and better handling making for a more entertaining driving experience. Two battery sizes are available, so you're looking at either 248 or 383 kilometres of range.
As for third place, we picked another Kia product, the Niro EV. Equipped with the same high-capacity battery as the longer-range Soul EV model, it can travel up to 385 kilometres on a full charge. Performance is good, and the driving experience is surprisingly refined.
With more and more EVs hitting the market, we expect our rankings to be quite different next year. Watch out for the Ford Mustang Mach-E and Volkswagen ID.4, among others.
Don't miss our full list of Best Buys for 2021!