2021 Ford Bronco Shown With Every Part You Can Remove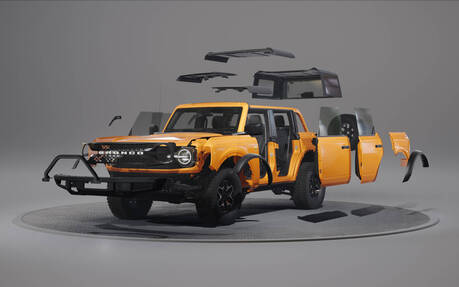 Unveiled last July, the all-new 2021 Ford Bronco will officially enter production sometime in the next few weeks. Deliveries to customers will begin in early summer following a short delay.
In the meantime, the automaker wants fans to know more about the Bronco's modular design by showing basically all the parts, accessories and body panels you can remove and replace, whether to personalize the truck or adapt it to various uses.
Ford says basic modifications to prep a Bronco can be completed in a matter of minutes by hand. Bronco logos stamped on the body and interior fasteners indicate removeable modular components such as frameless doors, fenders, bumpers, grille and grab handles. 
We've already talked about the modular roof panels which can be removed by one person using simple latches. Available modular rear quarter windows can be removed with minimal effort, as well, simply by releasing a latch for each window. Two people can remove the rear hardtop assembly after removing a few fasteners. 
Next up, you can take off the four fender flares in just a few minutes each thanks to easy-to-use quarter-turn fasteners. As for the fenders themselves, they can be removed by simply taking out the bolts—and replaced just the same without welding or other complicated means.  
The Bronco's frameless doors can be dismounted in minutes by anyone of any size by taking off two bolts and disconnecting an electrical connector. Allow 2-4 minutes depending on your skill level. 
What's more, threaded Bronco logo mounting points from the factory enable the addition of accessories like LED pod lights to sideview mirrors and installation of roof racks to the top sport bar. Available modular front and rear bumpers also come with threaded taps to mount winches, safari bars and LED lights.
Ford insists the Bronco models retain all required federal safety standards even when design-intent body parts are removed for off-road use.
The company previously showed a number of ways to customize its new 4x4 through a series of adventure concepts and racing prototypes. The Bronco's modular design also means owners can look forward to years of modifying their vehicle with the latest features so they can keep it longer. The possibilities for the platform are almost endless.
Watch: 2021 Ford Bronco in action