Vanderhall Brawley EV Unveiled as Wrangler and Bronco Fighter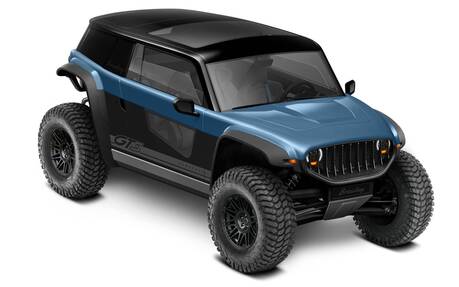 Vanderhall is certainly not a household name among car enthusiasts. This three-wheel roadster manufacturer is famous for models like the Venice and Carmel, and if neither of those rings a bell we totally forgive you.
The Utah-based company is now trying something radically different in an effort to become mainstream: a dedicated off-road SUV that can put to shame Jeep Wranglers and Ford Broncos.
The Vanderhall Brawley is a unique machine that even has a fully electric powertrain. Intrigued? Check out footage of some of the testing that took place in the sand dunes near the company's headquarters:
According to the Vanderhall website, the Brawley GTS gerates 404 horsepower and 480 pound-feet of torque from not one, not two, not three, but four electric motors (one for each wheel). It's not immediately clear if other variants will be available at some point.
The model you see here features 18-inch wheels on 35-inch tires and offers up to 22 inches of suspension travel backed by internal bypass shocks.
The four-passenger cabin is ultra-minimalist and airy with a glass section in the door panels. As you can see on the pictures, the front bucket seats are highly bolstered and go along with a leather-wrapped steering wheel, climate control, air purification system and Kicker stereo. Similar to the Wrangler and Bronco, the roof can be removed. Another highlight is four-wheel steering.
When it comes to range, Vanderhall claims the Brawley can drive for more than 320 kilometres on a full charge, though expect much shorter distances when exploiting the vehicle's incredible off-road potential. Using a DC fast-charging station, it's possible to get the battery back to 80 percent in under an hour.
There's one big caveat, mind you: the Brawley is not road-legal since it has no airbags or crashworthiness credentials. While pricing has yet to be announced, the company will accept reservations starting July 15.
It might be the next best thing to a future Wrangler EV or Bronco EV.
Watch: 2021 Jeep Wrangler 4xe Debuts as Plug-in Hybrid Wrangler