2021 Jeep Wrangler 4xe: Silently Conquering the Great Outdoors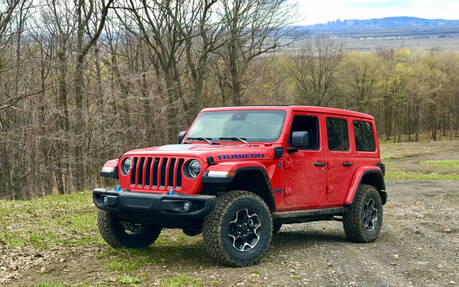 The all-new 2021 Jeep Wrangler 4xe plug-in hybrid has just started to arrive in Canadian dealerships as the brand's first-ever gas-electric model sold in the country.
As far as styling is concerned, you'll notice some unique blue accents on the body and tow hooks, plus a charging door on the driver's side. Inside, blue stitching on the seats, gear shifter and dashboard is the main highlight.
We drove a Wrangler Unlimited Rubicon 4xe to put to the test Jeep's PHEV technology, which combines a turbocharged 2.0-litre four-cylinder engine with a pair of electric motors, one of which is associated with the combustion engine and the other is located inside the transmission where it replaces the torque converter. Both motors draw energy from a 17-kWh lithium-ion battery mounted underneath the rear seats.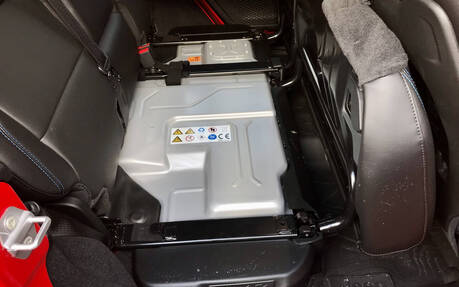 Selectable Power
The interesting thing about the new Wrangler 4xe is that drivers can select the power source they want at any given time using one of the controls next to the steering wheel (on the left side).
As the name implies, Hybrid mode combines gasoline and electricity (the latter is prioritized), EV mode relies solely on electrons to move the vehicle until the battery is depleted, and E-Save mode uses the gas engine only to preserve battery power for later use.
Total system output is rated at 375 horsepower and 470 pound-feet of torque—the highest torque figure ever posted by a Wrangler, matching that of the upcoming 6.4-litre V8-powered Rubicon 392.
Sprints from 0-100 km/h are achieved in just over six seconds, while EV range is calculated at 35 kilometres, which is way less than the Toyota RAV4 Prime's 68 kilometres. However, the Wrangler Unlimited Rubicon 4xe is far superior in off-road driving.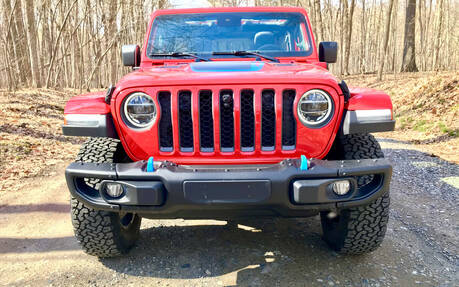 King of the Mountain
When it comes to the chassis and 4WD system, the 4xe variant is technically identical to the conventionally powered Rubicon, featuring Jeep's top-rated Rock-Trac system with front and rear locking differentials. You can disconnect the front sway bar with a simple push of a button to maximize front suspension articulation. BFGoodrich TA KO2 tires are included, as well.
Since the Wrangler Rubicon was designed to tackle the most challenging terrains and the 4xe model has all the same off-road components and attributes, you don't have to sacrifice anything in terms of performance by going with the hybrid. It's also a real treat to be able to venture into the woods and enjoy the great outdoors in near complete silence.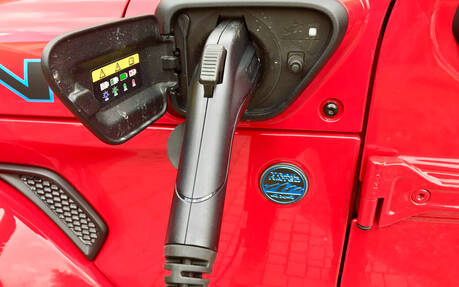 One-pedal Driving
Whether on or off the road, the 2021 Jeep Wrangler Rubicon 4xe enables one-pedal driving when you push the Max Regen button on the centre console. That's great, and it helps extend the life of the conventional brakes.
Average fuel consumption is rated at 4.8 L/100 km by Natural Resources Canada, which is very optimistic. It all depends on how frequently you charge the battery and how many kilometres you typically drive each day.
If you keep the vehicle plugged in every time you're not using it and limit yourself to short trips, you could save even more gas. On the other hand, when the battery runs empty, expect to burn just over 11 L/100 km, like we did. Remember, the Wrangler 4xe weighs more than 2,200 kilograms and has some of the worst aerodynamics you can find.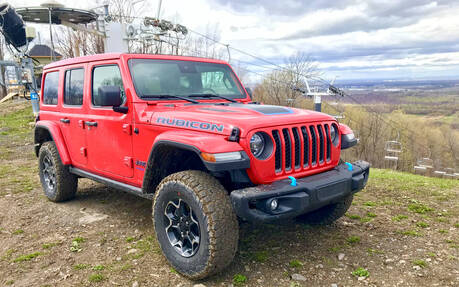 Available EV Incentives
Pricing for the 2021 Jeep Wrangler Rubicon 4xe starts at $59,995 excluding destination and handling (there's also a Wrangler Sahara 4xe at $54,995). Our tester had a ton of options and cost $74,340.
Customers in Quebec and British Columbia are entitled to an EV rebate of $8,000 and $1,500, respectively. However, since the base MSRP is over $45,000, you can't get a rebate from the federal government. Still, considering the extra power and potentially big savings at the pump, you should definitely consider the 4xe option.
Test drive report
Test model

2021 Jeep Wrangler

Trim level
Unlimited Rubicon 4xe
Price range
$59,995 – $74,340
Price as tested
CA$74,340
Warranty (basic)
3 years/60,000 km
Warranty (powertrain)
5 years/100,000 km
Fuel economy (city/highway/observed)
4.8 / 11.7 / 11.2 L/100km
Options
Leather - $1,095, Cold Weather Package - $995, Tow hitch - $895, Safety Package - $945, Advanced Safety Package - $1,450, Steel bumpers - $1,295, Cargo rails - $195, Proximity access - $495, Flared fenders - $295, Power sunroof - $3,995, Off-road camera - $595
Competitive models
Ford Bronco, Toyota 4Runner
Strong points

Phenomenal off-road prowess
Selectable power source
Outstanding torque
One-pedal driving is possible

Weak points

High price
Limited EV range
Poor fuel economy in hybrid mode
Wind noise and road noise at highway speeds

Editor's rating
Fuel economy
If you keep the vehicle plugged in every time you're not using it and limit yourself to short trips, you can save a lot of gas.
Comfort
The current Wrangler is more comfortable than its predecessor, but the ride still isn't very smooth.
Performance
The hybrid powertrain delivers as much torque as the upcoming 6.4-litre V8.
Infotainment
The Uconnect system proves quite user-friendly and should serve as a benchmark for other automakers.
Driving
It's a real treat to be able to venture into the woods and enjoy the great outdoors in near complete silence.
Overall
It's the most interesting Wrangler you can buy in 2021.