Get Ready for V8-powered Jeep Wrangler Rubicon 392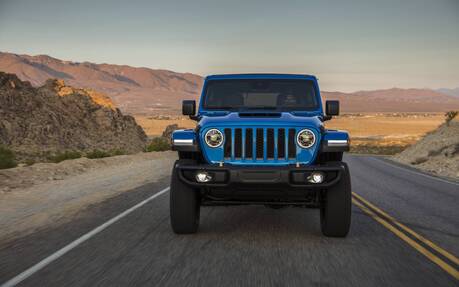 While the Jeep Wrangler is currently available with a turbocharged four-cylinder engine, gasoline V6 and EcoDiesel V6, that's not quite enough for some customers who demand V8 power, especially for off-road driving.
Remember the Wrangler Rubicon 392 Concept announced on the very same day the new 2021 Ford Bronco broke cover? Well, it's official now: There will be a production model.
470 Horsepower FTW!
Using a slightly modified version of the 6.4-litre HEMI V8 found in the Dodge Charger, Durango and Challenger, the eight-cylinder Wrangler generates 470 horsepower and 470 pound-feet of torque through an eight-speed automatic transmission. Manual shifting is possible via the console-mounted gear selector or the paddle shifters on the steering wheel. Sadly, no manual gearbox is available here. Of course, the four-wheel drive system retains a two-speed transfer case.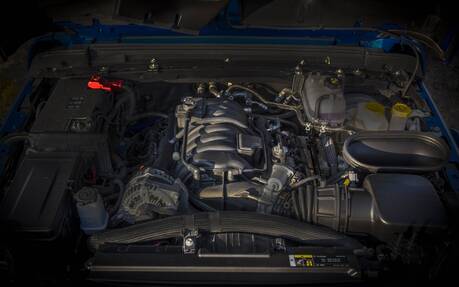 The specially tuned exhaust system offers two different modes—one that's designed not to wake the neighbours and another that opens everything up for a loud and menacing growl. Jeep engineers fired up the engine during a virtual presentation and we were impressed.
Development of the Wrangler Rubicon 392 included tests on the legendary Rubicon Trail near Lake Tahoe, Nevada, as well as several runs on a drag strip to maximize straight-inline acceleration. Consider these numbers: 0-100 km/h in just 4.5 seconds and a quarter-mile time of 13 seconds. On the other hand, top speed is limited at 159 km/h.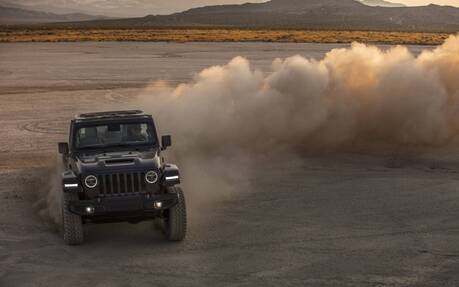 Upgraded Chassis and Tires
Physically, this unique Wrangler stands out with a Gladiator Mojave hood including a functional hood scoop. You can drive through water and mud without the risk of damaging the engine.
The extra weight and power are handled by a reinforced chassis up front, revised gearing and beefier tires. The vehicle is two inches taller than normal, with a suspension featuring upgraded springs.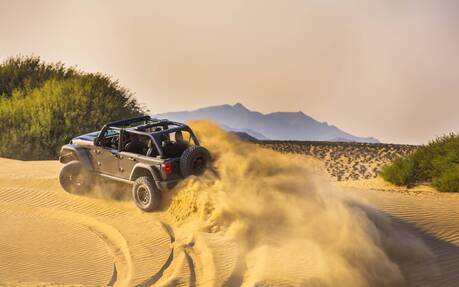 Four Doors Only
The 6.4-litre V8 is exclusive to four-door Wrangler Unlimited models in Rubicon trim only. FCA told us that the Gladiator pickup will not be getting this engine.
Look for the 2021 Jeep Wrangler Rubicon 392 to go on sale in the U.S. early next year. Details for Canada have yet to be announced. We expect the price to be fairly steep since a base V6-powered Wrangler Rubicon costs more than $50,000.