HEMI-powered Jeep Wrangler Concept Steals Bronco's Thunder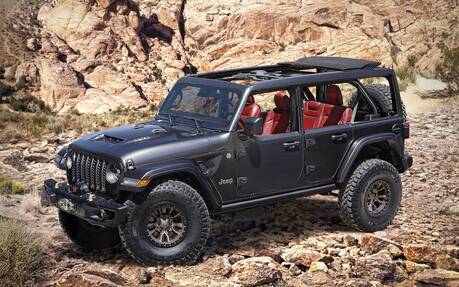 On the very same day its new rival will officially break cover, Jeep is announcing a Wrangler Rubicon 392 Concept powered by FCA's 6.4-litre HEMI V8.
If you thought the brand was going to let the 2021 Ford Bronco get all the attention, you're wrong.
A first since the 1981 Jeep CJ offered a 5.0-litre V8, the Wrangler Rubicon 392 produces 450 horsepower and 450 pound-feet of torque, sprinting from 0-96 km/h in less than five seconds.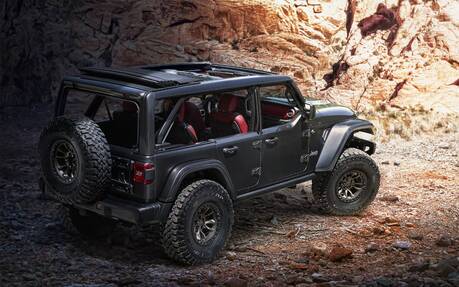 Right now, Jeep Wrangler customers can choose a 270-hp turbocharged four-cylinder, a 285-hp gasoline V6 or a 260-hp EcoDiesel V6 that generates 440 lb-ft. The Ford Bronco, meanwhile, is expected to offer a 2.7-litre EcoBoost V6 with around 325 hp and 400 lb-ft.
Jeep has previously said that a Wrangler or Gladiator powered by a Hellcat engine (supercharged 6.2-litre V8) was technically possible but unfeasible due to a lack of space to meet collision standards. However, it looks like the big 392 can pass the test.
Engineers used upgraded engine mounts and a modified frame. They also added a hood scoop and beefed up the eight-speed automatic transmission.
Furthermore, the 17-inch beadlock wheels are wrapped in 37-inch mud-terrain tires and connected to a Mopar suspension featuring a two-inch lift kit and new monotube Fox shocks. A two-mode exhaust system alters the performance sound at the touch of a button.
The best part is that the Jeep Wrangler Rubicon 392 will enter production at some point. So now we wait to see if Ford will respond with a Bronco Raptor or something like that.