Jeep Wrangler 4xe Plug-in Hybrid Unveiled With 40 km of EV Range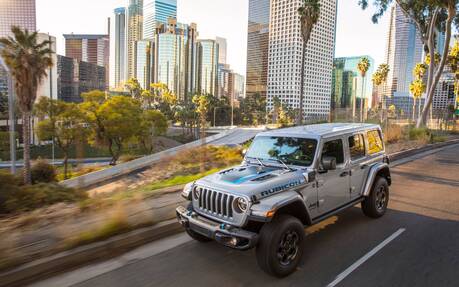 The Jeep brand didn't just confirm its return to the large premium SUV segment with the introduction of the Grand Wagoneer today. It also formally launched the new Wrangler 4xe, a plug-in hybrid variant of the legendary four-wheeler.
The "4xe" moniker will be applied to all Jeep PHEVs coming to North America in the future. A Renegade 4xe and Compass 4xe are already available in Europe.
The gas-electric Jeep Wrangler 4xe looks like any other Wrangler except for some blue accents here and there. There's more than meets the eye, of course.
According to Jeep, this hybrid Wrangler will be just as capable in off-road driving as the conventionally powered 4x4 we already know and love—only quieter. All 4xe models will be "Trail Rated" and packed with equipment designed to tackle the most challenging terrains, including skid plates, upgraded suspension, beefier tires and more.
Hybrid But Not Weak
The highlight of the new Jeep Wrangler 4xe is a range of about 40 kilometres in pure EV mode. When the battery runs empty, the gasoline engine takes over and the vehicle operates as a regular hybrid.
More specifically, we're talking about an Alfa Romeo-sourced, turbocharged 2.0-litre four-cylinder that delivers 270 horsepower and 295 pound-feet of torque. It's backed by a pair of electric motors, one rated at 44 horsepower and the other at 134 horsepower.
Total system output for the Wrangler 4xe is 375 horsepower and 470 pound-feet of torque. Impressed? You should be.
The four-wheel-drive powertrain also includes an eight-speed automatic transmission that's been modified to accommodate the instant torque from the electric motors, plus a rugged two-speed transfer case with 4x2, 4Hi and 4Lo modes.
Disappointing Range
As mentioned above, the Jeep Wrangler 4xe offers a zero-emission range of about 40 kilometres thanks to a 17.3-kWh battery. For comparison, the Toyota RAV4 Prime is capable of 68 kilometres in EV mode, while the Ford Escape PHEV nearly matches that a range with 61 kilometres according to Natural Resources Canada.
While we expected a bit more from the Wrangler 4xe, most people will use that EV range in city driving and other low-speed situations. Statistics show that the majority of commuters live in a 50-kilometre radius from work, so it's probably not that bad after all.
We don't know yet when the Jeep Wrangler 4xe will go on sale exactly or how much it will cost. The company says the plug-in hybrid powertrain will be offered in both Sahara and Rubicon trim. It likely won't be cheap.