GV60 Unveiled as Genesis' First All-electric SUV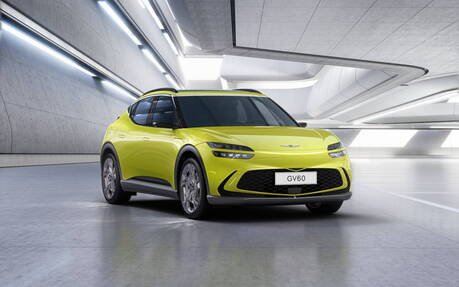 Genesis has released the first official pictures of its brand new GV60, a fully electric SUV that will join the larger, non-electric GV70 and GV80.
The company's design language is clearly expressed once again, with signature Quad Lamps front and rear. However, the coupe-like rear end is something we haven't seen before. It looks great, for sure, but passenger and cargo room will inevitably be affected.
Inside, the GV60 has a familiar design and layout, with a combination of digital displays spanning half of the dashboard. Some bold touches can be found, mind you, and the two smaller displays at the corners show images from side-view cameras. It's more likely that the North-American models will feature conventional mirrors.
There isn't much to say beyond that as Genesis did not provide any technical details. The GV60 uses a dedicated EV platform.
Expect to hear more about this new electric SUV in the coming months including when it might land in Canada.