GM Designers Imagine Future Steering Wheel in Nintendo Switch Fashion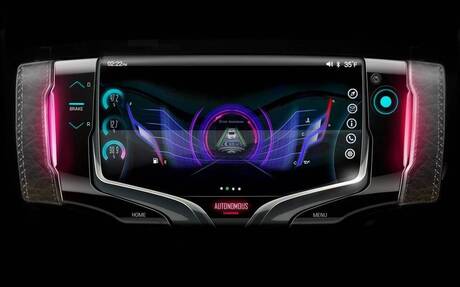 Designers at General Motors always have an eye toward the future and they often come up with surreal concepts they're happy to share with us via Instagram.
We've previously covered wild sketches for the GMC Hummer EV and seen their vision for a hardcore Chevy Silverado. One of the latest creations is a steering wheel designed for tomorrow's electric and autonomous vehicles.
If you think Tesla's yoke-style steering wheel is a bold move, this GM concept goes even farther. In fact, it looks more like a hand-held gaming console such as the Nintendo Switch. Sandwiched between a pair of leather-trimmed handles are two columns of haptic controls and a large screen. The result is quite futuristic and definitely not as minimalist as other steering wheels we've seen from rival automakers.
GM doesn't provide any explanation on how this works, but it appears the arrows on the left side activate drive and reverse. There's a small bar for braking, so the round button on the other side must be for acceleration. Could there be no pedals? Possibly. One of the pictures shows the vehicle in Autonomous mode.
Shortcut buttons for the various vehicle functions are located on the right side of the screen, but what we have a hard time figuring out are the fuel pump, engine oil and temperature icons. Are they just a nod to the ICE-powered era?
Another picture shows the steering wheel in Human Drive mode, with what looks like obstacle and road sign recognition systems helping the driver through traffic.
It's all pretty cool, but for safety's sake where would the driver's front airbag go? Clearly, GM designers got a little too carried away with this steering wheel concept. What do you think?