Uber-rare 1998 Porsche 911 GT1 Strassenversion is Listed at $15M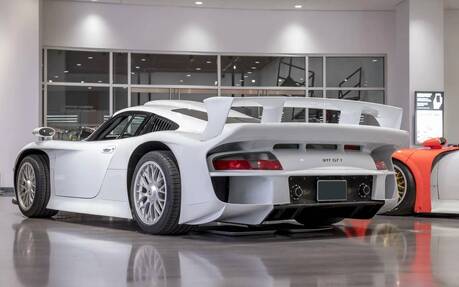 Those who remember the 911 GT1 race car developed and built by Porsche from 1996-1998 probably know that there was also a road-going version as part of a homologation ruling that required a handful of such models to be built. Called 911 GT1 Straßenversion, it had a limited production run of no more than 25 units, and one of them happens to be up for sale right now at a stratospheric price.
Listed on global online luxury marketplace JamesEdition, the extremely rare Porsche (the one pictured below) is a 1998 model in pristine condition with a Fern White body and black interior. It has barely been driven, having logged just 787 kilometres in over two decades.
The ultra-wide body, advanced aerodynamics and downforce-generating features such as the air intake on the roof and the giant rear wing inevitably draw attention. Meanwhile, the water-cooled, twin-turbocharged 3.2-litre flat-six engine is mated to a conventional manual transmission, sending 700 horsepower to the rear wheels and accelerating from 0-100 km/h in under four seconds.
The seller is asking for a whopping 10.55 million euros, or approximately $15.1 million CAD at the current exchange rate. Ironically, the listing specifies that only serious buyers with a letter of intent and proof of funds will be considered. Also, Bitcoins are accepted.
If you are interested and can afford it, the only problem might be delivery as the car currently resides in Tokyo, Japan. However, with left-hand drive, you shouldn't any trouble adjusting to the drive.
We'd be surprised if this 911 GT1 Straßenversion ends up selling for that kind of money, though. The most expensive to date traded hands in 2017 at the Gooding & Company's Amelia Island auction. It had around 7,900 kilometres and sold for $5.6 million USD ($7.1 million CAD), which is not quite half the amount required here.
Watch: We Drove the 2022 Porsche 911 GT3 on the Track