2023 Subaru Solterra Arrives in L.A., Details for Canada Emerge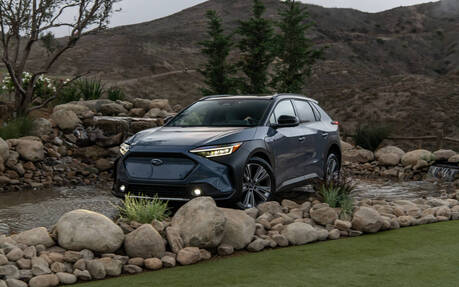 One week after its global premiere in Japan, Subaru came to the Los Angeles Auto Show to host the North American debut of the all-new Solterra, a compact electric SUV that shares many similarities with the equally new Toyota bZ4X.
The two vehicles were developed alongside each other and ride on the same platform, much like the BRZ and GR 86 sports coupes.
Unlike the Subaru Crosstrek PHEV, which uses a battery and electric motor from Toyota and is available only in Quebec, the Solterra will be sold by Subaru dealers across Canada. It may be highly dependent on Toyota's expertise and technology, and styling is almost identical, but the Solterra embodies the adventurous spirit Subaru is known for. In fact, the brand's acclaimed "Symmetrical AWD" system has been retained for this vehicle.
AWD Only
While the Toyota bZ4X offers a single-motor FWD variant, the Subaru Solterra will be exclusively a dual-motor AWD vehicle in Canada. Each motor has an output of 80 kW, and they draw energy from a 71.4-kWh battery, giving the Solterra a total of 215 horsepower, 246 pound-feet of torque and 354 kilometres of range.
Similar in size to the Subaru Forester, the Solterra is wider and has a longer wheelbase making it roomier inside. It will go head-to-head with models like the Ford Mustang Mach-E, Volkswagen ID.4 and the upcoming Nissan Ariya. While a single trim level is planned, customers will have a choice of two packages—one adds various safety and driver assistance features, while the other includes 20-inch wheels, a panoramic sunroof, synthetic leather seats and a 12.3-inch touchscreen.
Built in Japan at a Toyota-owned assembly plant, the 2023 Subaru Solterra will go on sale next summer, right around the same time as the Toyota bZ4X. Since these two models look very much alike and use similar technology, will pricing be a difference-maker? Probably not. While talking to Subaru executives at the L.A. Auto Show, we came to the conclusion that the Solterra and bZ4X will land in about the same price range.
Mystery Strategy
Despite Subaru and Toyota working together on these new EVs, the marketing strategies for both remain relatively secret. Obviously, availability will be a key factor influencing potential customers, who otherwise could go either way—unless they want a longer-range, FWD-equipped vehicle, in which case they will have to turn to Toyota.
Ultimately, the Subaru Solterra is a quality product that will likely enjoy big success, especially in Quebec where EVs are more popular and government incentives are more generous. Speaking of which, we seriously doubt that Subaru will price the Solterra above $45,000 as it would make it ineligible to the $5,000 reduction from Ottawa and consequently less attractive than most competitors.