2021 Porsche Boxster GTS 4.0: Daily Driver Extraordinaire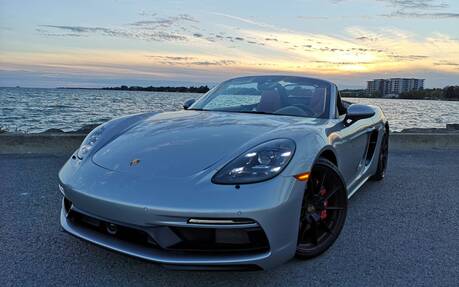 2021 Porsche 718 Boxster GTS 4.0: Daily Driver Extraordinaire
The Boxster isn't the entry-level car it was when it was first introduced back in 1998. Although the older relics make great affordable weekender cars, despite their yellowed-out headlights and lower horsepower figures, the Boxster has evolved into a purebred Porsche that can provide the same level of excitement as other vehicles that carry the mighty badge from Stuttgart.
Although the base 718 Boxster is fitted with a Porsche four-cylinder, the GTS-branded convertible roadster hides a Porsche signature flat-six, making it noteworthy in terms of performance and bragging rights. And this engine is just one of many treats the GTS moniker brings to the table.
The GTS Package is a Blessing
Glancing at Porsche's option catalogue will remind you that add-ons can be terrifyingly expensive. However, thanks to the GTS package, Porsche is bundling performance-oriented bits to spice up any model without the need to pick and choose. In addition, the 2021 Boxster GTS 4.0 doesn't skimp in terms of equipment. It fits the 718 Boxster with several interesting bits, such as the active suspension with lower chassis (-20mm), the Sport Chrono Package, a set of sport seats, the Porsche Torque Vectoring (PTV), including mechanically locking limited slip differential, and many more.
Powering this amalgam of German-engineered components is the 4.0-litre, naturally-aspirated flat-six outputting 394 horsepower and 317 lb-ft of torque. Since the first-gen Boxster churned out half of that power, it goes to show just how far this model has come.
While the GT kept some parts of its ancestor, which is the six-speed manual gearbox that channels the power to the rear wheels (at the time, it was a five-speed). However, our tester was fitted with the eight-speed automatic PDK.
After thoroughly abusing every horse available in this GTS, we can say that, although it is not quite as powerful as the Spyder, which breaks the 400-hp barrier, its churns out plenty of horsepower for its size and has enough left to give the driver and passenger a good scare.
Perfectly Dialed Chassis
Regardless of all the GTS artillery bolted to it, the new 982 Porsche chassis is a masterpiece. The connection it creates with the driver breeds an oh-so elegant confidence that is less aggressive and more friendly than a 911, but still leaves plenty of opportunities for gripping fun while you're taking in the sun. Though you're not getting the full horsepower from the 911 badge and all the rear weight that comes with it, the 718 Boxster gives the driver a nimble character without all the bells and whistles for conquering, eye-popping G-Force.
The 2021 718 Boxster GTS 4.0 is not only nimble when one's throwing it around the curves. In fact, the few compromises it makes all go towards improving driving comfort. The balance at the heart of the chassis essentially supplies the ride with comfort that the 911 cars can't offer, and that's a big plus for those who (logically) want to daily-drive this thing.
A Track-Day-Ready Interior Made for the Road
Inside, the 718 Boxster GTS 4.0 exhibits many major qualities of a daily driver. While 911 counterparts can cause cramps in old bodies here and there, the 718 Boxster is so much more amicable on long hauls and day-to-day drives. you'll benefit from 270 litres of total cargo space when combining the front and rear luggage areas.
While the seating is technically competition-inspired, our posteriors found that they were soft enough to soothe any aggravations related to long periods of driving, while still furnishing a good dose of lateral support when things get serious.
The Porsche infotainment system has always needed quite a bit of tweaking to be fully user friendly. Luckily, Porsche recently conducted several successful iterations aimed at making the system more intuitive and it is now simpler to use.
All said and done, the 2021 Porsche Boxster 4.0 GTS will run you $97,600 if you don't sprinkle anything more on top. Which is quite the chunk of change for what used to be considered an "entry-level Porsche". However, the days where the Boxster was treated like a Porsche stripped of its high-performance abilities are long gone. This model can deploy plenty of power and smiles, especially with the GTS badge on it.
Test drive report
Test model

2021 Porsche 718 Boxster

Trim level
Boxster GTS 4.0 PDK
Price range
$67,100 – $119,600
Price as tested
CA$101,850
Warranty (basic)
4 years/80,000 km
Warranty (powertrain)
4 years/80,000 km
Fuel economy (city/highway/observed)
12.3 / 9.8 / N/A L/100km
Options
N/A
Competitive models
Alfa Romeo 4C, Audi TT, BMW Z4, Chevrolet Corvette, Lotus Evora
Strong points

Enhanced driving dynamics thanks to the GTS package
Comfortable for daily driving
Great exhaust not from the six-cylinder

Weak points
Editor's rating
Fuel economy
Not bad for a six-cylinder, thanks to the PDK.
Comfort
Impressive ride comfort.
Performance
Performances are up there!
Infotainment
Much better than it used to be.
Driving
Precise handling, great accelerations, unique feedback.
Overall
The Boxster is unbelievably versatile - from daily driver to track monster.