Subaru Solterra STI and 1,037-Hp STI E-RA Concepts Debut in Tokyo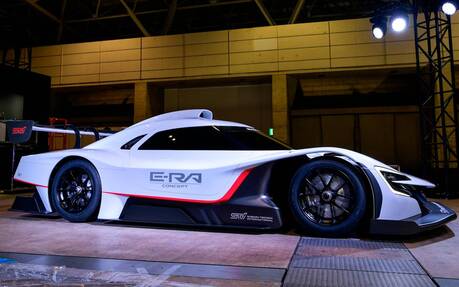 The new, fully electric STI concept Subaru teased at the end of last year made its public debut today at Tokyo Auto Salon 2022.
The STI E-RA has nothing to do with the WRX STI. Rather, it's a preview of the electric race car being developed under STI's near-future motorsport study project, the STI E-RA CHALLENGE PROJECT, launched with the aim of "gathering experience with new technologies in the world of motorsports for the carbon-neutral era."
One of the automaker's goals is to achieve a time of 6:40 minutes at the Nürburgring from 2023 onward, which would beat all ICE-powered cars ever to lap the famed German track—though far from the outright lap record of 5:19 minutes set by the Porsche 919 Hybrid Evo in 2018.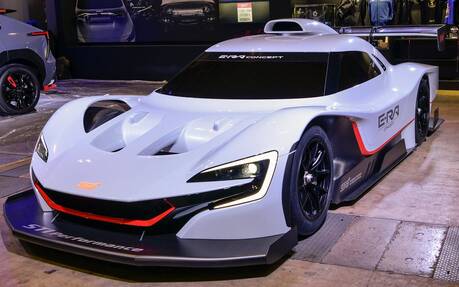 The Subaru STI E-RA can count on a four-motor system with four-wheel torque vectoring that produces up to 800 kilowatts (1,073 horsepower). If it's just as durable as other Subaru products, we think this could be a serious force to be reckoned with.
Is a Solterra STI Coming?
Meanwhile, we don't know if Subaru is actually considering a high-performance variant of its upcoming electric SUV, the 2023 Solterra, which debuted last November. At Tokyo Auto Salon, a concept with STI badging and striking looks seemed to hint at such a model.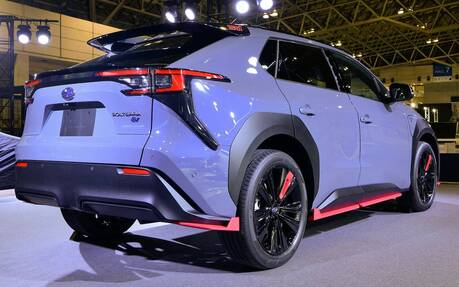 Check out the big rear spoiler at the top of the liftgate, the unique wheels mounted on performance tires, the various black trim pieces and the red-painted under spoilers. Similar to Toyota's bZ4X GR Sport concept, also on display in Tokyo, sports seats are probably found inside, though no pictures of the cabin are available.
Subaru didn't say anything about the powertrain, either. Naturally, a future production Solterra STI would be more potent and faster than the base model with standard AWD, which is rated at 215 horsepower and 248 pound-feet of torque. Rest assured that any new development pertaining to the Solterra will be detailed in this space.  
Watch: 2022 Subaru WRX Makes Global Debut