New 2023 Aston Martin DBX 707 Packs a Whole Lot of Power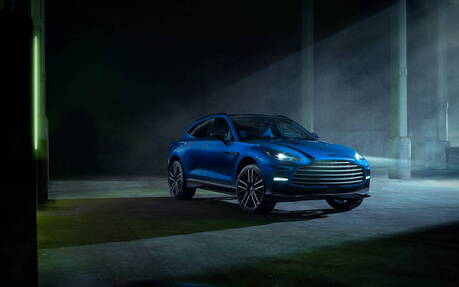 We knew that a faster, more powerful Aston Martin DBX was coming, but maybe not that fast or that powerful. The company today unveiled the 2023 DBX 707, which is advertised as the pinnacle of luxury SUV performance.
Aston Martin CEO Tobias Moers says we'll know for sure if it's the fastest on Earth when the DBX 707 attempts to set a new record at Germany's Nürburgring sometime soon.
If you were expecting to see a big V12 engine under the hood, you were wrong. Rather, a substantially upgraded version of the twin-turbocharged 4.0-litre AMG V8 gives the model an output of 697 horsepower (or 707 metric horsepower, hence the name). By comparison, the regular DBX generates 542 horsepower. Peak torque is increased to 663 pound-feet.
The DBX 707 effectively trumps the Porsche Cayenne Turbo S E-Hybrid (670 horsepower), Lamborghini Urus (641 horsepower), Bentley Bentayga Speed (626 horsepower) and BMW X5 M Competition (617 horsepower).
Also new to Aston Martin's flagship performance SUV is a nine-speed 'wet clutch' automatic transmission capable of managing much increased torque loadings compared with a regular torque converter automatic. Sprints from 0-60 mph (97 km/h) are achieved in just 3.1 seconds. No competitor is quicker except the all-electric, 1,020-horsepower Tesla Model X Plaid, which can get to 100 km/h in 2.6 seconds.
Obviously, which so much power and speed on tap, the DBX 707 needs an impressive set of brakes. The standard Carbon Ceramic Brakes measuring 16.5 inches at the front and 15.4 inches at the rear are gripped by six-piston calipers. By the way, 22-inch wheels are included here, but 23-inch units are optional. They're all wrapped in Pirelli rubber.
When it comes to styling, you'll notice that the front grille and bumper are larger, the window surrounds feature dark trim instead of chrome, and the massive rear diffuser is flanked by quad tailpipes.
Inside, new sport seats elevate the driving experience, though the DBX's regular comfort seats remain a no-cost option. The centre console has been slightly revised and offers shortcut buttons for the various drive modes.
Aston Martin anticipates the DBX 707 to account for about 60 percent of total DBX sales. Can you imagine that? Canadian pricing is announced at $266,800. Production will start this winter and the first deliveries for global markets will follow in the spring.