Watch: Aston Martin Bulldog Fulfills Dream of 200 Mph 44 Years Later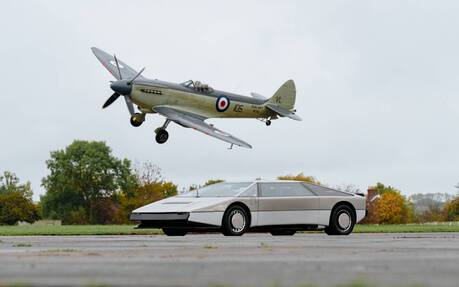 Released in 1979, the Aston Martin Bulldog was a wedge-shaped, mid-engined, one-off concept originally intended to go into small-scale production and turn the brand into a serious supercar player.
At the time, competitors were reaching top speeds of around 180 mph (290 km/h), but Aston Martin set a target for what would have been a record 200 mph (322 km/h). Alas, the Bulldog couldn't manage more than 191 mph (307 km/h).
Due to limited resources, then Aston Martin CEO Victor Gauntlett decided to scrap the project in 1981 and sell the car to a buyer in the Middle East. The Bulldog was salvaged and restored over the last few years by Classic Motors Cars under the supervision of Richard Gauntlett, Victor's son. It even won the Coppa d'Oro award at the Concorso d'Eleganza Ville d'Este last year.
Packing a twin-turbocharged 5.3-litre V8 with 600 horsepower, the Bulldog can finally enjoy bragging rights—albeit 44 years late—after achieving a top speed of 205.4 mph (330.6 km/h) at a former NATO base in Scotland recently.
Voir cette publication sur Instagram
"The conditions were perfect for the run and the car performed perfectly too, easily hitting the 200mph mark," said three-time Le Mans class winner Darren Turner, a factory driver for Aston Martin. "The Bulldog has now fulfilled Aston Martin's 1980s promise and everyone who has worked on the car, from those who first designed and built it, to Classic Motor Cars who undertook the restoration under the management of Richard Gauntlett, can feel very proud."