Nissan Frontier Concepts Mix Adventure With Old-School Fun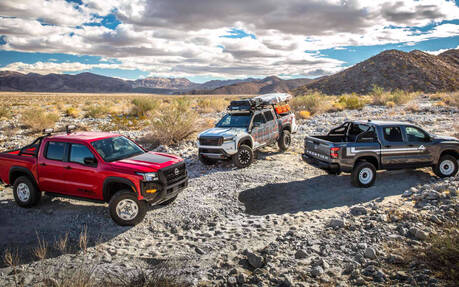 Introduced a year ago and on sale since last September, the next-generation 2022 Nissan Frontier is a stark evolution from its predecessor. The most rugged model in the lineup is still the PRO-4X, but for those who like adventure or simply having a good time, the company has just created three cool new concepts.
They will be on display at the Chicago Auto Show kicking off this weekend to give customers cues on how they can transform their Frontiers depending on their wants and needs. Check them out right here!
Project 72X
A tribute to the Datsun 720, which is one of Nissan's most successful models and the first vehicle the company built in the U.S. (back in 1983), the Project 72X concept is a beautiful throwback to the days of bare-bones, affordable pickups designed for fun and outdoor activities. Beyond the retro-looking graphics, the most striking feature is obviously the set of white steel wheels. Those are actually 2022 Frontier spare wheels mounted on PRO-4X tires.
Project Hardbody
Inspired by the Nissan Hardbody pickup, the Project Hardbody is finished in bright red and sports fender flares along with "4x4" graphics on the front doors. Once again, the wheels are a big draw with their block-style design. The suspension benefits from a three-inch lift kit with adjustable upper control arms. Add a set of off-road lights above the cabin, and you have yourself a great truck to explore remote locations day and night.
Project Adventure
For serious exploration and overlanding, however, the best of these Frontier concepts is unquestionably the Project Adventure. In addition to riding five inches higher than a standard PRO-4X model, it comes with a Yakima bed rack system, roof basket and roof tent. The Kicker audio system provides a break from the silence of nature. Meanwhile, the body features a custom wrap showing a U.S. atlas.
Don't miss our review of the 2022 Nissan Frontier and catch the truck in action below.