Reborn DeLorean to Debut Soon, Tiny Teaser Reminds Us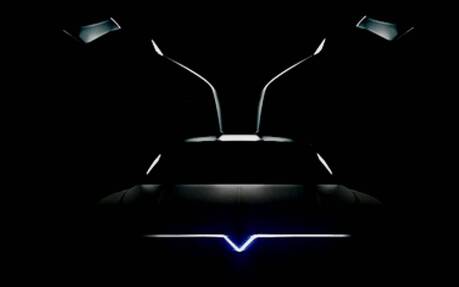 Announced by DeLorean Motor Company in January 2020, the new, modern interpretation of the famous DeLorean will finally be unveiled this year.
The Humble, Texas-based company which acquired the DeLorean trademarks and vast stocks of parts left over from the original factory and dealers has plans for limited production.
Will the stainless steel body return? That remains to be seen, but you can definitely count on the iconic gullwing doors, as shown in the tiny teaser that was posted on Twitter and YouTube today:
The winged "V" lighting signature up front combined with the hashtag #DeLoreanEVolved confirms that the powertrain will be fully electric—a radical departure from the old Peugeot-Renault-Volvo V6 engine.  
Remember, just over a year ago we had another teaser from world-renowned design studio Italdesign (whose founder Giorgetto Giugiaro was responsible for the original car):
Is Italdesign still involved with the project? We're not really sure. In fact, there are still plenty of things we don't know about at this point, but colour us excited.
Oh, and just for the record: Italdesign last year partnered with Williams Advanced Engineering to develop an EV platform that would be ideal for a modern DeLorean. It's said to deliver just over 1,300 horsepower. Great Scott!