Mazda Debuts All-New Plug-in Hybrid System with 323 Horsepower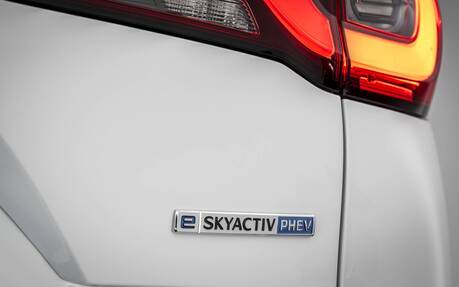 Mazda today unveiled the all-new CX-60, its first vehicle with an available plug-in hybrid (PHEV) powertrain. While this particular model is designed for Europe, the technology will be offered in the upcoming Mazda CX-90 and CX-70 to be sold in Canada.
Introducing yet another evolution of the Japanese brand's Kodo design language (it looks like a bigger and more modern CX-5 or CX-50 with extra chrome cladding), the CX-60 PHEV is built on a new large vehicle platform with a longitudinal engine layout.
The core of the system is a 2.5-litre four-cylinder Skyactiv-G engine with direct injection. It's mated to a 100kW (134 horsepower) electric motor that draws energy from a 17.8kWh high-capacity battery. A new eight-speed automatic transmission is also part of the equation.
This combination delivers 323 horsepower and 369 pound-feet of torque—more than any other Mazda SUV—allowing the CX-60 PHEV to accelerate from 0-100 km/h in just 5.8 seconds and tow over 5,000 pounds, the company claims. Sounds pretty great, doesn't it?
Mazda seems to have put more emphasis on performance than efficiency, as EV range is rated at 63 kilometres using the optimistic WLTP standard. We expect that number to be down to around 50 kilometres on this side of the Atlantic, similar to the Hyundai Santa Fe PHEV and Kia Sorento PHEV.
The Skyactiv Scalable Architecture is paired with excellent body rigidity and a double-wishbone front and multi-link rear suspension to deliver a first-rate driving experience in true Mazda fashion. Positioning the high-voltage battery between the front and rear axles and as low as possible, combined with a permanent all-wheel drive system incorporating shaft-driven transfer of torque between the axles, results in improved handling.
As for the CX-60's other features and equipment, there are several new i-Activsense driver assistance technologies including See-Through View, a next-generation 360-degree monitor with extended field of view at low speeds.
Take a look at the CX-60 in the picture gallery up top to get a taste of what our Mazda CX-90 and CX-70 will look like. And remember that the standard powertrain in those two will consist in a new inline six-cylinder gasoline engine.
In the longer term, Mazda will launch a new product line that uses an EV-dedicated platform from around 2025. The goal is to complete the electrification of all the models it produces by 2030.