Twin-Turbo Six-Cylinder Engine Could Land in GM Pickups, SUVs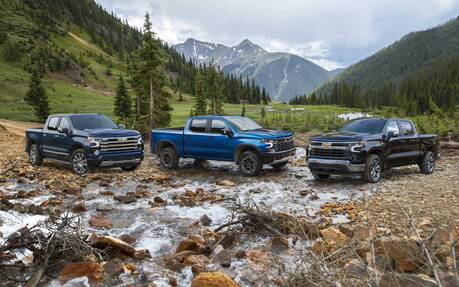 Will General Motors follow the lead of its top competitors by introducing a twin-turbocharged six-cylinder gasoline engine in its large pickups and SUVs? It looks like it.
While the decision is far from finalized, GM Authority reports that the automaker is currently considering the development of such an engine. It would be similar to the turbocharged 2.7-litre four-cylinder that is available in the Chevrolet Silverado 1500 and GMC Sierra 1500.
The other options under the hood of these trucks at the moment include naturally aspirated 5.3- and 6.2-litre V8 engines and a 3.0-litre turbo-diesel inline-six.
Ford has long offered EcoBoost V6 engines with displacement ranging from 2.7-3.5 litres, while Stellantis recently introduced the new Hurricane engine for the Jeep Wagoneer and Grand Wagoneer. We'll see it in the Ram 1500 sooner or later, as well.
Oh, and let's not forget the Toyota Tundra, whose latest generation ditched the old V8 for a twin-turbo 3.5-litre V6.
GM already offers twin-turbo V6 engines, but only in Cadillac cars. There's the 3.0-litre unit in the CT5 and CT5-V plus the 3.6-litre variant in the CT4-V Blackwing. This is a solution that makes sense for select Chevrolet and GMC pickups and SUVs, not to mention of course the Cadillac Escalade.
The continued development of GM's V8 range is another possibility, but as GM Authority notes, when you have a turbocharged 2.7-litre four-cylinder that generates almost as much torque as the naturally aspirated 6.2-litre V8 (420 lb-ft. versus 460 lb-ft.), that would appear to be a questionable move.
Watch: 2022 GMC Sierra Gets Mid-Cycle Update