Gas-Powered Chrysler and Dodge Cars in Ontario are Doomed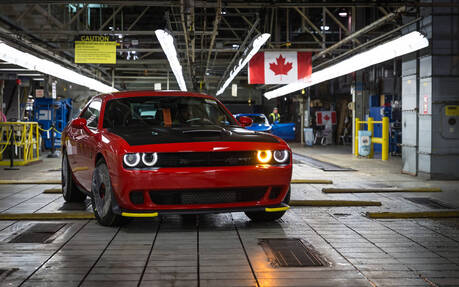 Stellantis, which owns the Chrysler, Dodge, Jeep and Ram brands, announced on Friday that production of its gas-powered L-Series cars, namely the Chrysler 300, Dodge Challenger and Dodge Charger, will end when Brampton Assembly in Ontario undergoes retooling starting in 2024.
Once the plant comes back online sometime in 2025, it will manufacture all-new vehicles built on one of Stellantis' new architectures including at least one fully electric model.
A product announcement for Brampton will be made at a later date. It's estimated that the plant will have an annual capacity of 200,000 units.
As you know, the 300, Charger and Challenger are nearing the end of an impossibly long generation, but their future is quite uncertain. Dodge plans to launch an electric muscle car in 2024.
Over at Windsor, where Stellantis assembles the Chrysler Pacifica and Grand Caravan/Voyager minivans, retooling will begin as early as next year as the automaker prepares to build vehicles on its STLA Large architecture, which is capable of delivering up to 800 km of range.
No product details are available yet, but said platform will provide battery-electric capability for multiple models. The Chrysler Airflow, shown in concept form at CES earlier this year, is obviously a strong possibility.
Back on May 2, Stellantis announced plans to invest $3.6 billion to secure the future of its Windsor and Brampton assembly plants and to expand its Automotive Research and Development Centre to accelerate the company's move to a sustainable future.