Ford Mustang Shelby GT500 Code Red is Back With 1,300 HP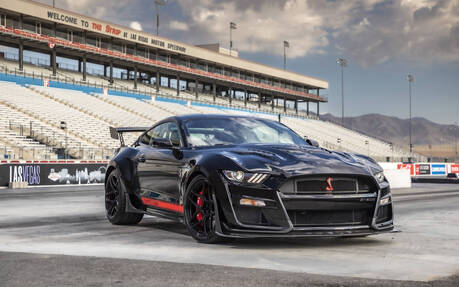 As they say, it's not over until it's over (for crazy 1000hp+ gas-powered American muscle, that is). Shelby American just took the Michigan Woodward Dream Cruise by storm when it unveiled the limited-edition Ford Mustang Shelby GT500 Code Red. Inspired by the 2008 Code Red prototype that Ford decided not to produce because it was too insane (and expensive) back then, it is powered by a twin-turbocharged V8 cranking out no less than 1,300 horsepower and 1,000 lb-ft of torque.
That's if you run E85 Ethanol. If you have to fill it with 93 octane pump gas, the Code Red Shelby GT500 will 'only' churn out 1,000 hp and 780 lb-ft of torque, according to the company.
Each example will be hand-built and will receive suspension, braking, cooling and aesthetic upgrades.
"Shelby American has built cutting-edge experimental versions of the Shelby GT500 since the model was launched in 1967," said Joe Conway, CEO of Shelby American. "While these testbeds for innovation never became production cars at the time, they helped make our vehicles better. For the first time in our 60-year history, we're turning an experimental car into a limited-edition vehicle. The enormous demand for a Code Red edition is an opportunity to demonstrate our capabilities, as well as the enormous potential of Ford Motor Company's marvellous Shelby GT500 as a dedicated straight-line performer."
Under the hood, the Shelby American took the supercharger out and replaced it with two dual ball-bearing turbos with all the high-tech plumbing that comes with it. The 5.2-litre gets an extensive list of upgraded internals, such as Mahle pistons, Manley rods and a Ferrea competition valvetrain.
The Code Red is dressed in carbon fibre, and many aesthetic elements make it stand out from the pack.
The hair in the soup? Well, there are two. First, there will only be 30 examples made (10 for each of the current GT500 generation years – 2020-2021-2022). Second, the package starts at US$209,995… not including the base car.