Compact Cars Get Mixed Reviews in New IIHS Side-Impact Test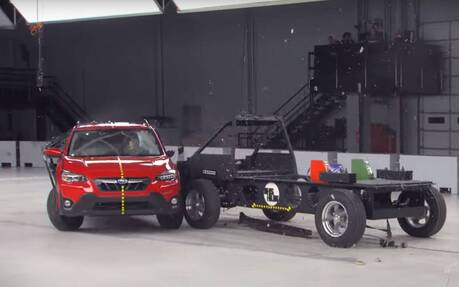 The Insurance Institute for Highway Safety (IIHS) last year implemented a new, tougher test to evaluate crashworthiness in lateral collisions. As it turned out, many compact SUVs and midsize SUVs didn't get a passing grade.
Now, compact cars are under the microscope, and the results are a mixed bag. In fact, some of them are a shocker.
Seven of the 11 models evaluated by the IIHS passed the new side-impact test starting with the Mazda3 and Mazda3 Sport which got a "Good" score. Five others including the Nissan Sentra, Toyota Corolla and Corolla Hatchback along with the Honda Civic and Honda Civic Hatchback earned an "Acceptable" grade.
On the other hand, the Kia Forte, Subaru Impreza 4-door and 5-door models as well as the Subaru Crosstrek (which the IIHS views as a car and not as an SUV) all received a "Poor" rating. In the case of Subaru, a brand known for offering solid vehicles and consistently earning IIHS Top Safety Pick awards, it's pretty disappointing.
The Hyundai Elantra and Volkswagen Jetta were not included in this latest round of tests by the IIHS.
"It's encouraging to see so many small cars with passing grades in this new side test," said IIHS Senior Research Engineer Becky Mueller, who spearheaded the development of the evaluation. "Smaller, lower vehicles are at a disadvantage when struck by the new (4,200lb) test barrier, which is a more realistic representation of the front end of a typical modern SUV than our old (3,300lb) barrier. Clearly, some manufacturers have already figured out how to provide sufficient protection in a crash like this even for occupants of small cars." 
The IIHS points out that a vehicle's length can make a difference here as doors tend to be weaker than the B-pillar and the frame surrounding the passenger compartment. Compact cars have less of that weaker space because of their shorter wheelbase and smaller doors, so they can withstand side impacts relatively well.
The structure and safety cage of the Good- and Acceptable-rated vehicles held up well in the new test. What's more, these models provide reasonably good protection for the head and upper body, not so much for the pelvis.
The Forte has a high risk of injuries to the upper body and pelvis and a relatively high risk of a head or neck injury, the IIHS noted. As for the Impreza and Crosstrek, there was more substantial intrusion of the B-pillar and interior door panels into the passenger compartment, contributing to a relatively high risk of upper body injuries for the driver and rear passenger.
Starting in 2023, the IIHS will require a "Good" or "Acceptable" rating for the lower-tier Top Safety Pick award and a "Good" rating for the higher-tier Top Safety Pick award.