The Best SUVs in Canada for 2023: Here Are Our Picks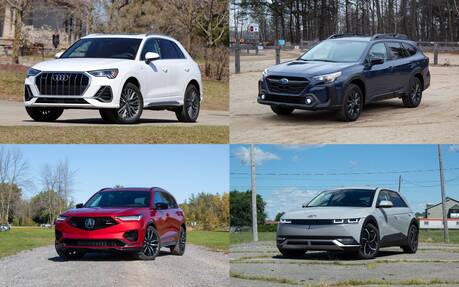 SUVs are all over the marketplace, which is great news if you like selection. But which ones are the best? More appropriately: which one is right for you? The answer depends on a bunch of factors, of course—how many people and how much cargo you need to haul, how frequently you plan to tow, power vs. fuel economy, etc.  
As you know, we at The Car Guide have our annual Best Buy awards helping new car shoppers make smarter buying decisions. Without further ado, here are our picks when it comes to the best SUVs in Canada for 2023. Click on the links to learn more!
Best Urban Crossovers for 2023
No. 1: Nissan Kicks
Runners-up: Kia Soul (2nd), Hyundai Venue (3rd)
Best Subcompact SUVs for 2023
No. 1: Subaru Crosstrek
Runners-up: Toyota Corolla Cross (2nd), Mazda CX-30 (3rd)
Best Subcompact Luxury SUVs for 2023
No. 1: Audi Q3
Runners-up: Volvo XC40 (2nd), Lexus UX (3rd)
Best Compact SUVs for 2023
No. 1: Toyota RAV4
Runners-up: Mitsubishi Outlander (2nd), Hyundai Tucson/Kia Sportage (3rd)
Best Compact Luxury SUVs for 2023
No. 1: Genesis GV70
Runners-up: Audi Q5 (2nd), Lexus NX (3rd)
Best Midsize SUVs for 2023
No. 1: Subaru Outback
Runners-up: Honda Passport (2nd), Toyota Venza (3rd)
Best Three-Row Midsize SUVs for 2023
No. 1: Hyundai Palisade/Kia Telluride
Runners-up: Toyota Highlander (2nd), Nissan Pathfinder (3rd)
Best Midsize Luxury SUVs for 2023
No. 1: Acura MDX
Runners-up: Audi Q7/Q8 (2nd), Porsche Cayenne (3rd)
Best Full-Size SUVs for 2023
No. 1: Chevrolet Tahoe/Chevrolet Suburban/GMC Yukon
Runners-up: Toyota Sequoia (2nd), Ford Expedition (3rd)
Best Full-Size Luxury SUVs for 2023
No. 1: Cadillac Escalade
Runners-up: BMX X7 (2nd), Mercedes-Benz GLS (3rd)
Best Electric SUVs for 2023
No. 1: Hyundai IONIQ 5/Kia EV6
Runners-up: Volkswagen ID.4 (2nd), Ford Mustang Mach-E (3rd)
Best Electric Luxury SUVs for 2023
No. 1: BMW iX
Runners-up: Cadillac LYRIQ (2nd), Jaguar I-PACE (3rd)
LISTEN: The Car Guide Podcast: LP and Gab discuss the 2023 Vehicle of the Year award winners