Volkswagen ID.7 Sedan Announced With Long Range, Fancy Tech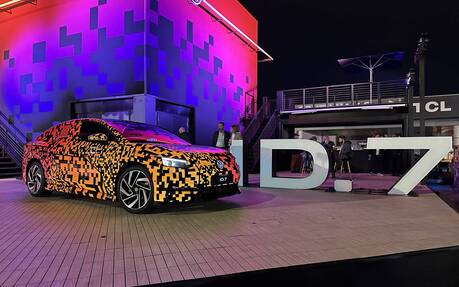 As promised, Volkswagen yesterday introduced a large electric sedan at CES (Consumer Electronics Show) in Las Vegas. Called ID.7 and based on the automaker's MEB architecture, it's derived from the ID. Aero concept we saw last year.
For some reason the car was sporting camouflage—the actual production model will be shown in the second quarter of 2023, Volkswagen says.
The unique thing about this particular, QR code-inspired camo treatment is that 40 layers of paint were applied, some of which are conductive while others have insulating properties. A total of 22 areas of the vehicle can be controlled separately and are electrified below the top layer of paint (electroluminescence) so that they light up. Pretty cool, isn't it? And if all this is connected to a sound system, the rhythm is visualized by illumination of individual areas.
Inside, the Volkswagen ID.7 features a new display concept with an augmented reality head-up display combined with a Tesla-like 15-inch centre touchscreen. There are illuminated touch sliders and new air conditioning controls integrated into the first level of the infotainment system.
Consider this: the ID.7 can detect when the driver is approaching based on their key and will already start to cool the interior on hot summer days or heat the interior on cold days before the driver gets into the car. Moreover, newly designed "Smart Air Vents" control the flow of air and move dynamically to distribute the air over large areas as quickly as possible.
These functions are visible at all times on the new large display and can be activated and saved individually for each user. And if you say "Hello Volkswagen, my hands are cold!", the ID.7 will respond by activating the steering wheel heating function and directing warm air towards your hands.
As previously mentioned, the ID.7 is based on Volkswagen's MEB platform and emphasizes aerodynamics to maximize range. On that note, the company claims drivers will be able to travel up to 700 km with a full charge. Of course, that number is calculated using the WLTP test cycle—look for anywhere between 500-600 km in North America, which would still be very impressive.
Sold as a global car, the ID.7 will join the ID.4 crossover sometime in 2024, right around the same time the new ID.Buzz van is slated to launch, as well. Models for the European market will be produced at the Emden plant in Germany, but no word about those coming to Canada.