2023 Subaru Solterra: Tread Lightly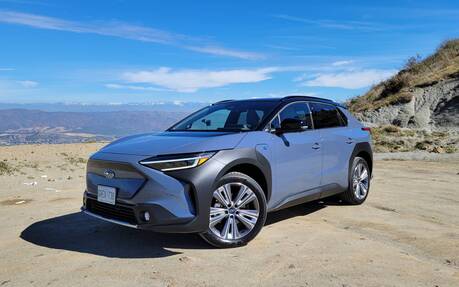 As you probably know by now, the 2023 Subaru Solterra and the Toyota BZ4X share the same platform and were co-developed by the Japanese duo to introduce a first global electric car for both manufacturers. And if you've been remotely interested in either one, you know that the waiting lists keep getting longer, in part because of the rocky start with recalls and assembly problems, but also because the cars are just slowly trickling into Canada, as it is the case for most EVs at the moment.
There's a lot of interest for the Solterra, but it's not clear yet if the EV will serve Subaru's loyal clientele and walk (or roll) them into the EV transition. The Car Guide flew to California to take the wheel of this new Subie and find out.
A New Era of Symmetrical All-Wheel Drive
The Solterra sits on a 72.8 kWh battery that feeds a pair of motors; one in the front and one in the rear. They are both identical and combine to dish out 215 horsepower and 248 lb-ft of torque. The range figure stands at 360 kilometres, which is on the low side (on paper) but our drive revealed that, in ideal conditions, the Solterra can break the 400-kilometre barrier.
While the BZ4X is available in both front- and all-wheel drive configurations, the Solterra sticks to Subaru roots and is offered exclusively with the symmetrical all-wheel drive.
But since the symmetrical all-wheel-drive system that underpins ICE Subaru cars is now converted to electrics – which means no driveshafts nor differentials, the front and rear motors communicate through wires and computers. And it does so very quickly. The X-Mode is now virtual, and it works in conjunction with a 210 mm ground clearance, to let the Solterra tackle light off-road duties.
For those who plan on towing should look somewhere else, as the Solterra isn't rated for this kind of activity.
A Pleasant, Honest Driving Experience
Subaru was able to build a pretty impressive package in terms of driving dynamics. Thanks to quick an accurate execution from the e-AWD system's brains, the Solterra provides good cornering capabilities while providing a satisfying feedback through the steering wheel. We don't need to tell you that the accelerations are impressive, this is an all-wheel drive EV and it is capable of getting off the line pretty easily, with sufficient power for day-to-day drives.
The powertrain comes with an array of drive modes that modulate accelerator reaction, but also front/rear power distribution, which can vary from 50/50, 70/30 and 40/60 depending on what the computers see fit. There is also a one-pedal driving mode to optimize power regeneration through braking, along with four selectable levels.
Snow/dirt, deep snow/mud also further increase the Solterra's all-weather capabilities. There's even a Grip mode that acts as a low speed cruise system in light off road conditions. Kind of like a crawl mode.
We've had the chance to scroll through these modes during a short trail encounter and, while the Solterra feels heavy on unpaved roads, it proved itself up to the task.
Inside, buyers who opt for the base Solterra receive an 8-inch infotainment touchscreen, while other trims get a larger, 12.3-inch screen. The infotainment system resembles the new Toyota interface, which is, in our opinion, much more intuitive and easy-to use than what Subaru would've put in there.
We like the fact that Subaru kept the HVAC controls separate from the screen for easy access. Unlike the BZ4X, the Solterra doesn't have radiant heating, but it does have a heat pump that maximized efficiency when heating the cabin. The seating is comfortable, but we found the overall interior finish to be a little too rugged for the price tag.
LISTEN: LP Gives his first driving impressions on the 2023 Subaru Solterra on The Car Guide Podcast
If you choose the luxury or technology package, you'll get a roof rack that can hold 176 lb when you're driving, and up to 700 lb when static, which like for a tent with two people.
There are abundant safety features, as you would expect from a Subaru. New features stack on top of the usual stuff, like the Emergency Driving Stop system will bring the vehicle to a top, put the hazard if the driver becomes unresponsive, if you pass out after a sleepless night in your rooftop tent, for example.
The red flags…
There's something very conservative about the Solterra that goes beyond the range numbers. Engineers seem overprotective of the battery. It has an 8-year/160,000 km warranty, but Subaru wants it to last 10 years with a maximum of 10% degradation. And that comes with its drawbacks.
First, they gave the Solterra a limited charging capacity of 100 kW on a fast charger. This is on the low side, considering main rivals can achieve more than twice that. This might nor really affect you if you plan on doing most of your charging at home. But if you're in the mood for frequent and long road trips that require fast charging, you may be in for longer waits. But that's not all, Subaru also underlined that the Solterra's battery management system will only let you do two fast charges a day, again, in an effort to keep the battery's integrity.
Also, there's no way to activate battery preconditioning before charging like a Tesla would do. This can further impact fast-charging capabilities.  
Conclusion
It's the Far West right now in the automotive industry as every automaker is desperately trying to put together decent electric offerings while keeping to their roots. And Subaru is playing a dangerous game. With fast chargers getting more powerful by the minute and competitors offering more intelligent charging options with on-demand preconditioning, it seems like the Solterra is already behind right out of the gate. This conservatism could jeopardize short and medium term value and damage the automaker's reputation.
And with a starting price of $54,295 excluding delivery, and $4,100 Luxury package or $7,800 tech package add-ons, the dilemma resides in whether you want to end up with a $60,000 soon-to-be-obsolete EV or an EV with a healthier battery… in 10 years.
Test drive report
Test model

2023 Subaru Solterra

Trim level
N/A
Price range
N/A
Price as tested
N/A
Warranty (basic)
N/A
Warranty (powertrain)
N/A
Fuel economy (city/highway/observed)
N/A
Options
N/A
Competitive models
Audi Q4 e-tron, Chevrolet Bolt EUV, Fisker Ocean, Ford Mustang Mach-E, Hyundai IONIQ 5, Liteborne Aurium SEV, Kia EV6, Mazda MX-30, Mercedes-Benz EQB, Nissan Ariya, Polestar 2, Tesla Model Y, Toyota bZ4X, VinFast VF 8, Volkswagen ID.4, Volvo C40 Recharge, Volvo XC40
Strong points

Good overall driving experience
Intuitive infotainment system

Weak points

Low charging capacity
Limited high-speed charging events per day
Not rated for towing

Editor's rating
Fuel economy
N/A Not calculated
Comfort
Comfort is good. But we would expect a little bit more refinement for the price.
Performance
Sufficient performance.
Infotainment
Good, intuitive infotainment system with separate HVAC controls.
Driving
Driving dynamics are on par.
Overall
The Solterra seems already outdated because of its limited charging capacities.