Honda Reaches Major Milestone with 10 Millionth Vehicle Built in Canada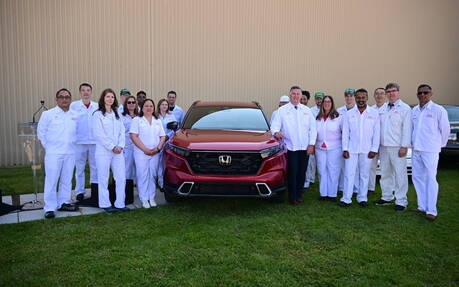 Honda, which became the first Japanese automaker to establish a production facility in Canada in 1986, this week reached a major milestone with the 10 millionth vehicle to roll off the lines in Alliston, Ontario—a 2023 Honda CR-V Touring Hybrid.
"This achievement is a testament to the hard work, commitment and dedication of generations of Honda of Canada Mfg. (HCM) associates, I want to thank and congratulate them on this historic milestone," said Jean Marc Leclerc, President and CEO Honda Canada. "Since 1986, HCM has been a class leader in Canadian automotive manufacturing and production and one of Honda's most important facilities on a global scale. It's been a pillar of the local economy and community for decades and will be for generations to come."
Over the past 37 years, Honda has manufactured a large number of models in Alliston, including the Accord, Odyssey, Pilot and Ridgeline as well as the Acura EL, CSX, MDX and ZDX. The two vehicle plants currently assemble the Honda CR‑V (gasoline and hybrid) and Civic (Sedan and Si).
Plant 2 is now the global lead facility for the all-new, sixth-generation CR-V and the North American lead facility for the CR-V Hybrid.
A third plant, which opened in 2008, builds 2.0-litre four-cylinder engines for the Civic. More than 2 million engines have been made there in the last decade and a half.
The CR-V enjoys a comfortable position as the second-best-selling SUV in Canada, trailing only the Toyota RAV4. Meanwhile, the Civic lost the sales crown it held for 24 years in a row when the Toyota Corolla sold more units in 2022.
Watch: 2023 Honda CR-V Overview