2023 Toyota bZ4X: Disappointing and Frustrating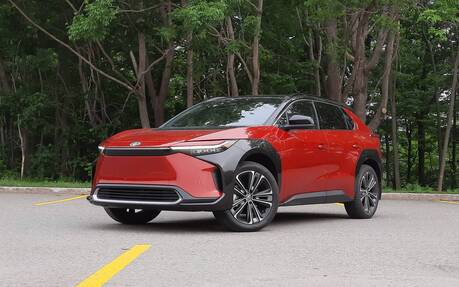 Hybrid king Toyota was pretty late to the battery-electric vehicle party and continues to face a lot criticism as a result. You'd think it could have used the time—and its electrification expertise—to come up with a really great product that would trump most others, but that's far from the case.
The first deliveries of the 2023 Toyota bZ4X in Canada were delayed several months last year because of a recall to address wheels that could potentially fall off. Winter came along, revealing the vehicle's limited fast-charging capability and severe loss of range in cold weather. Now, after a weeklong, early-summer test drive, I can't help but feel like Toyota developed and launched the bZ4X half-heartedly.
Ain't No Design Contest Winner
Both the Toyota bZ4X and Subaru Solterra (not to mention the Lexus RZ) share the same e-TNGA platform and look awfully alike, which is not that surprising but still disappointing. The exterior is typical Japanese styling, but I find all that grey cladding on the fenders and the in-your-face taillights in the rear kind of hard to swallow.
My tester was a top-line XLE model equipped with the Technology Package, which includes 20-inch wheels, roof rails and a number of gadgets. Oh, and a power-assisted liftgate with split spoilers at the top—not sure exactly why.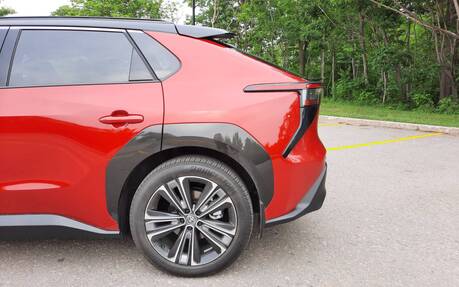 Thank Heavens for the Seats
The interior design of the bZ4X is questionable, too. Unless you opt for light grey synthetic leather, the cabin is pretty dark and uninspiring beyond that mesh fabric covering the dashboard. There are too many hard surfaces and piano black accents (the latter attracting fingerprints and other marks like a magnet) to my liking. Overhead, the fixed panoramic roof brings in nice sunlight, but designers chose to add a fat crossbar in the middle, likely for body rigidity purposes.
That being said, I love the front seats and wouldn't change them. They provide plenty of comfort and support. They're also heated just like the rear seats (at least in my tester), where you'll find generous legroom. Music lovers, meanwhile, will surely appreciate the available nine-speaker JBL sound system. As for cargo, despite the severely angled rear window, the trunk can accommodate up to 784 litres, more than the vast majority of competitors.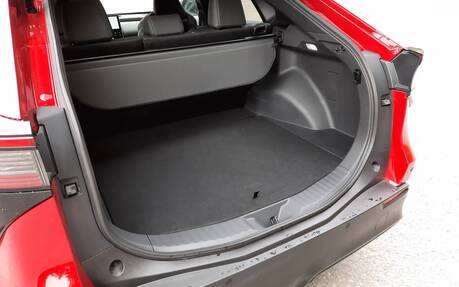 Some Cockpit Revisions, Please
The driving experience in the Toyota bZ4X, particularly when it comes to the cockpit, definitely won't suit everybody. The seven-inch digital instrument cluster is positioned near the base of the windshield, closer to eye-level, but that means it's partially blocked by the steering wheel. Seriously, who approved this? From my personal point of view, I couldn't see the odometer or the range indicator—pretty important data in an EV if you ask me. Adjusting the steering wheel and column ended up compromising the driving position, which I wasn't willing to accept.
Neither the instrument cluster nor the centre touchscreen seem like they were given complete consideration by designers or fully adapted to EV driving. For example, battery charge is represented not as a percentage but rather as a graph bar that simply gets smaller the more you drive. There's no display that shows the energy transfers in real-time, either. Said touchscreen can be as large as 12.3 inches in size, but since it's not oriented toward the driver, some of the controls are a bit out of reach. Other than that, however, Toyota's new multimedia system is a success—clear, easy to read and with shortcut icons conveniently stacked to the left, near the driver.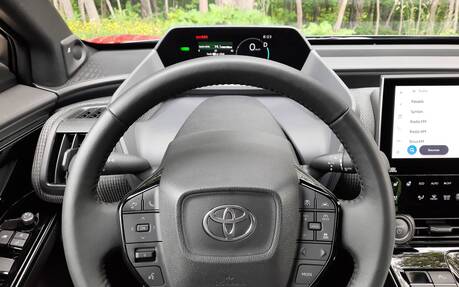 Limited Capabilities Lead to Frustration
On the road, the Toyota bZ4X proves smooth (even with those 20-inch alloys) and quiet. It's also livelier than the dual-motor variant's 214 horsepower suggest. The problem is that every direct competitor delivers a lot more power than that—and consequently much quicker acceleration, too. The brakes do a good job overall, although they can be on the sensitive side. There's a button on the centre console that increases energy recuperation when braking, but one-pedal driving is not possible with the bZ4X.
Some of the many driver assistance features available on this vehicle can hardly be trusted. On my watch, lane departure warning and lane keeping assist, in particular, seemed to struggle with consistent lane marking detection and smooth steering corrections.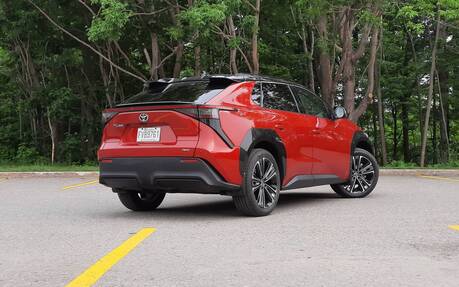 While range is arguably the top priority for many EV shoppers, the bZ4X disappoints with 406 km in FWD configuration and just 367 km in AWD configuration—the one most Canadian drivers tend to prefer. Combined energy consumption at the end of the week amounted to 19.1 kWh/100 km, which is quite good since part of the test drive included a trip through the mountains of Québec's Charlevoix region). It's even better than the official rating of 20.1 kWh/100 km posted by Natural Resources Canada.
Alas, the range indicator isn't very accurate, over-estimating the distance you can actually travel. Another frustration came from fast-charging: the bZ4X AWD is theoretically good for up to 100 kW at a DC charger (FWD model: 150 kW), but the most power I've managed to extract was actually 60 kW, and the curve dropped pretty quickly after that. Charging from 16-80 percent required as much as 56 minutes, which is unacceptable once again. Remember, this test drive took place in early summer with ideal temperature conditions. Good luck for charging in winter, especially since Toyota says that fast charging may not be possible at -20 degrees or colder.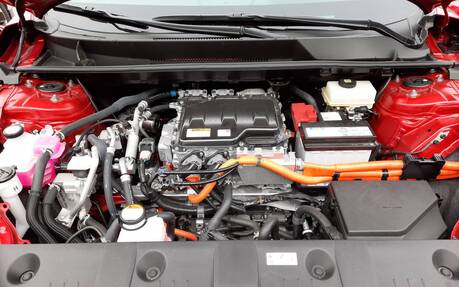 Lots of Better Options Out There
Starting at just under $48,000 (including freight, PDI and dealer fees, but not the available EV incentives that can amount to $12,000 depending on where you live in Canada), the 2023 Toyota bZ4X is cheaper than most direct competitors. However, that doesn't make it a better purchase. Sorry, Toyota fans, it simply can't match the likes of the Hyundai IONIQ 5, Kia EV6, Ford Mustang Mach-E, Volkswagen ID.4 and Tesla Model Y, just to name a few.
What a disappointing first foray into the BEV segment by Toyota. Hopefully the automaker will go back to the drawing board and powertrain lab and introduce more serious contenders as it expands its bZ lineup in the future.
Test drive report
Test model

2023 Toyota bZ4X

Trim level
XLE AWD avec Groupe Technologie
Price range
$44,990 – $62,750
Price as tested
62 750 $
Warranty (basic)
3 years/60,000 km
Warranty (powertrain)
5 years/100,000 km
Fuel economy (city/highway/observed)
N/A
Options
Technology Package ($8,870)
Competitive models
2023 Ford Mustang Mach-E, 2023 Hyundai IONIQ 5, 2023 Kia EV6, 2023 Audi Q4 e-tron, 2023 Nissan Ariya, 2023 Subaru Solterra, 2023 Volkswagen ID.4, 2023 Tesla Model Y, 2023 Volvo XC40 Recharge Core
Strong points

Smooth ride
Spacious cargo area
Great seats

Weak points

Way less powerful than competitors
Limited range
Charging issues
Cockpit needs revisions

Editor's rating
Fuel economy
Energy consumption is pretty good, but range is fairly limited.
Comfort
We love the front seats and wouldn't change them.
Performance
Livelier than we expected, but way less powerful than rivals.
Infotainment
Toyota's new multimedia system is a success.
Driving
We've seen more dynamic EVs. The cockpit needs revisions.
Overall
The bZ4X feels like a half-hearted effort by Toyota and deserves no more than a passing grade.