Podcast: 2024 Polestar 2 and 2024 Chevrolet Silverado HD Test Drives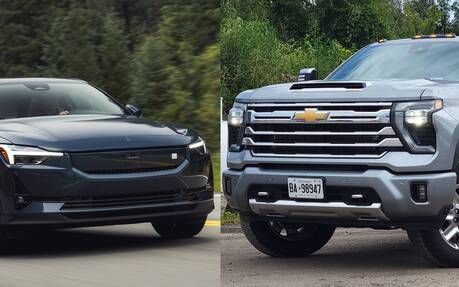 On the latest episode of The Car Guide Podcast, LP gives us his driving impressions on the 2024 Chevrolet Silverado HD High County. This capable workhorse, which is assembled in Oshawa, Ontario, has received quite a few iterations for 2024. LP underlines the truck's incredible capabilities in terms of towing, but also its impressive power and torque numbers that can greatly benefit daily driving. Select variants of the Silverado HD have been fitted with a brand new interior, an aspect that represents quite a leap forward from the previous model - especially on the range-topping High Country trim. However, LP notes that some technologies on board such as driver assistance equipment need improvement.
Gab was in Scandinavia earlier this month to drive the new Polestar 2 sedan and share his driving impressions. The 2024 model features enhanced powertrains, as well as more range. More equipment is also on the menu, along with a very light price increase. Gab underlines that the Polestar 2 has made great progress in terms of driveability.
Listen to LP and Gab's drive impressions here:
Listen to The Car Guide Podcast EP17 (full episode) here: