2024 Mercedes-
AMG GT

63 Coupe: More Mature, But Still Belligerent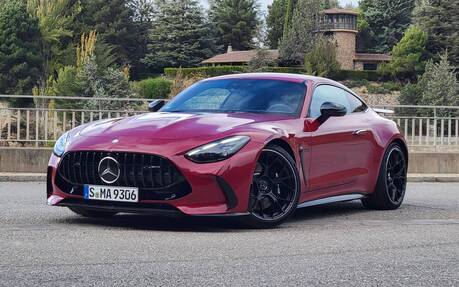 Electrification is challenging the very definition of the high-end sportscar at the moment. On the one hand, electric motors and their magnets unleash never-before-seen levels of performance on wheels, but the batteries that feed them come with an additional weight that impedes driving dynamics. And fuel-injected performance hasn't said its last word, especially according to high-end car manufacturers.
The AMG GT Coupe towers above the Mercedes-Benz range with its exotic lines and feisty character. While it aims to appeal to hardcore performance enthusiasts with its twin-turbo V8 engine that needs only fuel and sparks to perform, new and advanced chassis dynamics technologies may displease some of these purists.
The AMG GT Coupe is based on an all-new platform shared with its cousin the SL for its second generation, and is offered in two variants, the GT 53 and GT 63. The Car Guide travelled to Spain to put the coupe version of the GT 63 through its paces.
Mechanically Untamed
Under the long hood of the AMG GT Coupe, engineers and motorists have retained the twin-turbocharged 4.0-liter V8, but it now develops 469 hp in the AMG 53 and 577 hp in the AMG 63. Torque figures are 516 lb-ft and 590 lb-ft respectively.
The difference in power between the two variants is essentially attributable to a different ECU calibration and turbocharging system adjustments.
Hybridization is a major trend at Mercedes-Benz these days, and one that's lurking just around the corner for the AMG GT Coupe, with an electrified version in its near future, in addition to an all-electric model planned before the end of the decade. For the moment, however, the silver-starred sports car doesn't benefit from this technology - the turbocharged V8 relies exclusively on its thermal capabilities.
The biggest technical innovation is inevitably the fact that the AMG GT Coupe is now equipped with 4MATIC+ all-wheel drive, a game-changing addition given that the previous model was RWD only. This new feature is mated to an AMG-prepared 9-speed automatic gearbox.
While electrons are not part of the technical picture, a clever mix of electro-analog technology takes care of chassis dynamics. For example, the suspension is equipped with a hydraulic component for active roll control, independent control of all four corners, and the ability to raise the nose of the vehicle by 30 mm to better navigate urban conditions. The AMG GT Coupe also benefits from four-wheel steering, a feature that not only performs well on twisty roads, but is also quite useful in the city.
In terms of performance, the AMG GT Coupe clearly doesn't need the hybrid boost to deliver. In fact, the V8 incorporates all AMG's know-how for channelling power with the minimum possible kinetic loss to all four wheels, delivering powerful, exhilarating acceleration all with a devilishly satisfying traditional roar from the exhaust pipes.
On the road, unlike its predecessor which continually tempted the devil, the AMG GT Coupe sticks to a balance between brutality and comfort. This behavior can be modulated via a series of driving modes, but is always accompanied by highly precise steering.
The vehicle is obviously comfortable in Comfort mode, but switching to Sport mode surprisingly doesn't make it uncomfortable. In Sport+ mode, it's gets tail-happy by trying to commemorate its rear-wheel-drive past. The AMG GT Coupe is at its sharpest in Race mode, where its senses are sharpened to set lap times on the track.
Combined with almost exaggerated braking power, the AMG GT Coupe inspires surprising confidence behind the wheel, even for the least experienced drivers.
A Roomier Cabin
Inside, the AMG GT Coupe provides more room than in the previous generation, with the possibility of adding two rear seats. Take our word for it, these are for convenience, not recommended for long distances, and practically inaccessible to tall people.
The dashboard adopts the typical dual-screen configuration, with a 12.3-inch display behind the steering wheel for instrumentation, and an 11.9-inch vertical display in the middle for infotainment. The AMG sports steering wheel offers excellent grip - but it's also well stocked with rotary and haptic feedback controls that allow the driver to operate many of the driving-related systems without having to extend an arm towards the central screen.
The biggest drawback of this cabin is undoubtedly visibility. Although it is said to have improved compared to the outgoing model, visibility is difficult towards the front because of the predominant A-pillars, which impede vision when cornering. At the rear, visibility is nil when maneuvering in reverse. Access to the cabin can also be laborious on occasion, with finicky door handles that retract slowly and rarely at the right moment.
Model purists will say that the new AMG GT Coupe has lost its beastly edge. It's true that the introduction of all-wheel drive sets a precedent in terms of driving dynamics - the sports car is easier to drive than ever before, which may rob it of some of its charm.
On the other hand, it represents the very best of the AMG division - all with a clever mix of technologies untouched by electrification (for now), in a high-performance package that's more comfortable than ever. Even though this AMG GT has gained in maturity, we can't say it lacks character. Far from it!
The AMG GT Coupe 2024 is due to hit dealerships next spring, with prices to be announced closer to launch.
WATCH: Images of the next-generation 2024 Mercedes-AMG GT Coupe
Test drive report
Test model

N/A

Trim level
N/A
Price range
N/A
Price as tested
N/A
Warranty (basic)
N/A
Warranty (powertrain)
N/A
Fuel economy (city/highway/observed)
N/A
Options
N/A
Competitive models
N/A
Strong points

Mind-blowing performance
Easier to drive
Gorgeous exterior looks

Weak points

Poor visibility inside the cabin
Finicky door handles

Editor's rating
Fuel economy
Any twin-turbo V8 will suck at being efficient. But target buyers are aware and rarely care.
Comfort
This new generation AMG GT Coupe is roomier and more comfortable.
Performance
The powertrain does an irreproachable job in terms of performance.
Infotainment
The new MBUX system is quite complete.
Driving
The new AMG GT Coupe may seem more level-headed thanks to its new AWD system. But it is easier to drive than ever.
Overall
More GT than ever, this Mercedes is now more advanced, more powerful and easier to tame.