2017 Nissan GT-R: GT-Class Graduate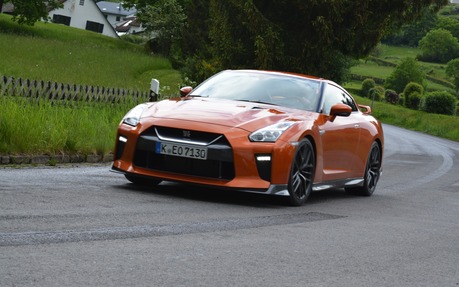 Every serious car manufacturer worth their mettle produces or has produced a halo sports car. In the grand scheme of the car business, they are a necessity. No, hundreds of thousands are not sold every year, but they are likely at least part of the reason why Dodge sells as many Chargers (thank you Viper) or why Audi delivers as many A4s (thank you R8).
The Nissan Skyline GT-R started out as a showcase of Nissan's knowhow for the 1968 edition of the Tokyo Motor Show. In the Japanese domestic market (JDM), it became an instant hit, but it wasn't until the very beginning of the 21st Century that North America was going to be officially exposed to a real Skyline, also known as Godzilla.
Interestingly, the third-generation GT-R R35 scared a number of enthusiasts as it brought with it the end of the manual transmission and a number of other unsettling issues. Thing is that Nissan knew exactly what it was doing nearly 16 years ago when the concept for the current car was unveiled.
A "M"ature car, for aerodynamics' sake
Without diving into too many details, it must be noted that the original Skyline GT-R stood for its name, that is: Grand Touring - Race. A GT car first, followed by a racecar. Through the updates and facelifts, the car evolved into something far more hardcore but by the end of the 2nd gen, an M-Spec version was created, realigning GT and R. It came to be as a more civilized, more mature but just as potent automobile and eventually served as the inspiration for the new 2017 GT-R.
From a dozen metres away, the changes to the 2017 GT-R's body are hardly noticeable. The most notable updates are in the front fascia and the front air intakes. Their job is to principally keep the car as cool as possible. One other element that we are sure to see more of is the "V-motion" grille, which represents one of the brand's latest design signatures.
On the subject of aerodynamics, the GT-R now boasts lower drag and improved downforce generation. The latter kicks in at 200 km/h and although I did manage 250 km/h on one portion of the famed Autobahn, the extra grip is not what was surprising: Even at this speed, my partner and I could maintain a conversation. According to Nissan, this dialogue is possible up to 300 km/h thanks to the overall improvements aimed at refining the car.
Maturity also brings on a form of sophistication, and the '17 GT-R has it in droves. The dashboard's been seriously cleaned and is now swathed with leather and lovely stitching. By simply looking through the side window, this Nissan just about holds its own to Mercedes. Other changes include a revised HMI screen that covers all the basis and, contrary to the previous car, steering-wheel mounted paddles.
Covers ground like no one's business
The paddles continue to manipulate a six-speed, dual-clutch automated manual transmission. It too has had its rough edges removed, but it still pounds its way from cog to cog with lightning fast precision.
The old GT-R was programmed in such a way to have its torque muffled in low gear, but all that did was kill throttle response. The new car no longer suffers from that, but its exhaust note is now far quieter, and I quote: "for a more pleasant experience during normal everyday driving." This is where I begin to scratch my head and need to remind myself that this is no longer a GT-R.
The twin-turbocharged 3.8L V6 is back and has also matured, in the best possible way. Through lessons learned via the NISMO GT-R, a trick ignition-timing system and more boost have increased output. Horsepower is now rated at 565 and torque, 467. But the numbers mean little, in fact.
The VR38DETT's torque curve is now longer, meaning it's more accessible through the rev range. The GT-R was fast, but now it's blisteringly so. A fourth-gear stomp on the throttle will have you near the double-ton in seconds. The sad part is that it's not as eventful as it once was. Or perhaps, I'm in the wrong as those that can afford these cars want to go fast, but not be bothered with the experience.
Spa Francorchamps, the GT-R and I
I was given six short laps on one of the most intense racetracks in the world. I did make friends with the GT-R's ATTESA E-TS all-wheel drive system as it did its best to provide forward momentum on a rain-soaked track. The differentials and the stability control (set in "R") clearly worked their magic as power was removed from the rear and sent up front, effectively pulling me out of La Source, for example.
Despite the impressive getup, I've never gotten along with the GT-R's front end. Its tires and I seemed at odds and my level of trust was limited. Steering is anesthetised, without feedback, but that's the thing, the car requires trust. On one corner, on our way to the Nurburgring, the car did gain my trust. Just beyond the creepy dead zone when the front wheels are turning, is a playing field covered in grip, responsiveness and more speed. Numbness is replaced with weight, responsiveness and a front suspension that, as it compresses, must close the loop as information is then sent to the driver. I only wish that I'd had this experience on the track.
The suspension is adjustable and now the disparity is greater between Comfort, Normal and Race. The impact of Race is felt through the wheel but unfortunately, there's no way this mode can be used on normal driving roads.
For the 2017 model year, the GT-R had it personalities cleanly spilt, and on purpose. It's still just as sharp, heavy and fast as it was but now, through clever electronics, can be dialled back further, creating a performance car that is supposed to be easier to deal with on a daily basis. I'm not convinced that it's a better street car than an Audi R8 or a Porsche 911, but for the price and power, it will pants them both when the hammer goes down.
Test drive report
Test model

2017 Nissan GT-R

Trim level
N/A
Price range
$110,000 – $119,500
Price as tested
N/A
Warranty (basic)
N/A
Warranty (powertrain)
N/A
Fuel economy (city/highway/observed)
N/A
Options
N/A
Competitive models
Aston Martin DB9, Audi R8, Dodge Viper, Lamborghini Huracán, Maserati GranTurismo, McLaren 12C, McLaren 650S, Porsche 911
Strong points

Massive amounts of power
Hauls ass!
With trust, it'll tear pavement thanks to its massive grip
Fantastic brakes

Weak points

Overall styling is getting on in age
I'm sad to see it get posher
It's big and drives that way

Editor's rating
Fuel economy
Don't buy a GT-R if you're not a fan of gas stations. It'll be your fault anyhow if you can't keep your foot off the floor.
Comfort
The 2017 is far more civilized, more so than an AMG GT but I wouldn't do long distance drives in one.
Performance
For the average human being, this is more performance than they can handle. …
Infotainment
The new touchscreen is larger, with a number of redundant controls. All the options are there however the Bose audio system is a little sad.
Driving
It's the "experience" that's lacking. If you want to go stupid fast, this is the car though.
Overall
I can't love nor recommend this car over the other super sports cars but for the money, only a Chevy Corvette can keep up with it.