2017 Nissan GT-R: Missile with a Cockpit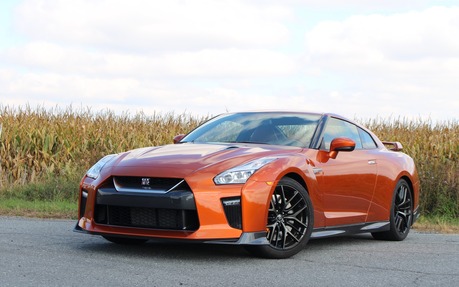 This car is fast. Make that stupid fast.
As we lift our foot off the brake pedal while the car's engine is winding up, we're slammed against the back of our seat and we violently hurtle forward. The 2017 Nissan GT-R is a big car, weighing in at just under 4000 pounds, but its all-wheel drivetrain, dual-clutch gearbox and twin-turbo V6 engine didn't get that memo. With the help of its launch control system, the GT-R can blast from 0 to 100 km/h in a little more than three seconds.
Nissan calls its flagship sports car Godzilla, which is suiting because it crushes every other car produced in the Land of the Rising Sun. With the exception of the Lexus LFA, perhaps.
It's been around in its current form for quite a while now, but it did receive an overhaul for the 2017 model year. The overall shape hasn't changed, but Nissan reworked the front fascia and added new alloy wheel designs and paint colours. The best way to spot it is by the chrome grille insert and the additional air intakes on the front bumper.
Its unique styling stands out. It looks downright chunky with its broad shoulders and hips, lower body cladding, giant taillights and massive exhaust pipes. It's impressive that despite the angular shape of this beast, it can cut through the air with a low aerodynamic drag of 0.26. Older sports car fans don't seem to care too much about it, but the kids love it after driving many variations of the GT-R in video games such as the Gran Turismo franchise on the Sony PlayStation consoles.
The hand-built 3.8-litre engine now develops 565 horsepower—20 more than in last year's car—as well as 467 pound-feet of torque between 3300 and 5800 rpm. That's quite a lot for a six-piston mill, and sounds pretty good, too. The six-speed automated transmission is a little crude as you can hear metallic clanking noises coming from underneath every time it swaps cogs. No one can say this powertrain doesn't lack character.
Other than its nose-bleeding acceleration, the 2017 Nissan GT-R can easily carve up a twisty back road or two. Yet finesse isn't part of this car's vocabulary. Weight is the enemy of a pure sports car, and Nissan simply compensated with more power, a performance-tuned AWD system and a stiff suspension. Make that very stiff. The GT-R's ride is pounding on any surface except a smooth highway.
As potent as Godzilla's engine is, it sucks down 94 octane fuel and isn't particularly efficient. We averaged 13 L/100 km, even with a mix of mostly highway driving.
Our test car's sport seats, dashboard and door panels were wrapped in orange leather to go along with the paint job. Revisions to the interior bring the car up to date, while the old infotainment system's arguably useful array of performance dials and menus is still there, but integrated into a more modern interface. There are rear seats, but there's just no legroom and two speakers lodged between the seatbacks will likely drown out any attempt at a conversation. Obviously, when the driver has his or her foot to the floor, the only words spoken would be swearing anyhow.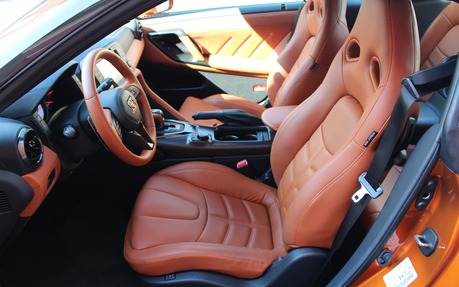 The 2017 Nissan GT-R's engine is uncovered and nicely detailed, and that's rare in today's cars. On the other hand, and we're being picky here, but a prop rod to keep the hood open on a $125,000 car—before freight and delivery charges—is far from impressive. That's for the Premium trim, and the one we tested was equipped with the $4,100 Premium Interior Package as well as a $1,000 paint job. The GT-R Track Edition, which benefits from unique 20-inch wheels, a carbon-fibre rear wing, a NISMO tuned suspension and RECARO front seats, is listed at $149,100.
Finding direct rivals to the GT-R isn't all that easy, partly because the car has an identity problem. It's supercar fast, but its size and weight suggest it's more of a grand touring coupe. Nonetheless, it can measure up to a Chevrolet Corvette Z06, a BMW M6, an Audi R8, a Mercedes-AMG GT and an Aston Martin Vantage.
The 2017 Nissan GT-R is an expensive car, but it's unique and full of character. It's refined in certain aspects and raw to the bone in others. It's amazingly fast as if the laws of physics were totally ignored by Nissan's engineers. That's what makes Godzilla so special.
Test drive report
Test model

2017 Nissan GT-R

Trim level
Premium
Price range
$125,000 – $149,100
Price as tested
CA$130,100
Warranty (basic)
3 years/60,000 km
Warranty (powertrain)
5 years/100,000 km
Fuel economy (city/highway/observed)
14.5 / 10.7 / 13.0 L/100km
Options
Premium Interior Package ($4,100), metallic paint ($1,000)
Competitive models
Aston Martin Vantage, Audi R8, Jaguar F-TYPE, Lamborghini Huracán, Maserati GranTurismo, Porsche 911
Strong points

Explosive acceleration
Looks like nothing else
Plenty of character

Weak points

Rough around the edges (for some)
Appetite for 94 octane fuel
Punishing ride

Editor's rating
Fuel economy
Low fuel economy is to be expected. Yet searching for 94-octane fuel can be a hassle.
Comfort
Anything but a smooth highway will make the GT-R's ride punishing.
Performance
One of the quickest cars on the planet.
Infotainment
Improved over the previous interface in the GT-R.
Driving
Amazing, but don't expect German sports-car levels of refinement and poise here.
Overall
The video-game supercar hero is a little rough around the edges in real life, but an adrenaline-pumping brute nonetheless.