Electrify Canada EV Chargers Coming to Select Canadian Tire Stores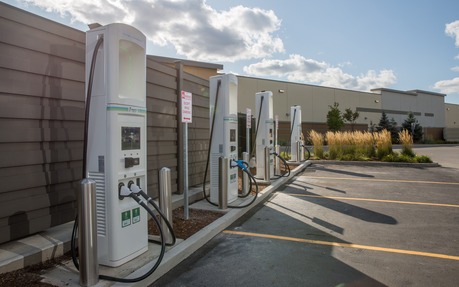 Following the opening of a first electric vehicle (EV) charging station in Ontario last month, Electrify Canada yesterday announced the planned launch of over 20 installations at select Canadian Tire locations across the country.
Electrify Canada is a new network being implemented by Volkswagen in major metro areas in British Columbia, Alberta, Ontario and Quebec to offer EV drivers even more charging options.
"Canadian Tire is one of Canada's most recognizable and trusted retailers, making this collaboration a natural fit," says Rob Barrosa, Chief Operating Officer of Electrify Canada. "We are thrilled to be entering into a relationship with a company that has strong Canadian roots and shares the same values and core beliefs of providing convenience and reliability of services to users. Together we look forward to bringing a positive charge to EV drivers across the country."
Canadian Tire said it is responding to Canadians' desire to reduce their greenhouse gas emissions now more than ever.
"At its roots, Canadian Tire is an automotive company, and for over 97 years we have evolved to meet the needs of our customers. We are excited to work with Electrify Canada to bring their leading-edge technology to our EV-driving customers," said Andrew Davies, Senior Vice President, Automotive, Canadian Tire.
As previously reported, all EVs compatible with CCS or CHAdeMO charging outlets will be able to access the ultra-fast charging systems of Electrify Canada.
Charging at Electrify Canada stations is priced by the minute based on three power levels (1-75 kW, 1-125 kW and 1-350 kW) and two membership options are available.
There is also a mobile app designed to easily start, track and pay for a charging session from your smartphone.